I put this out there last week and it sparked some interesting feedback on Twitter: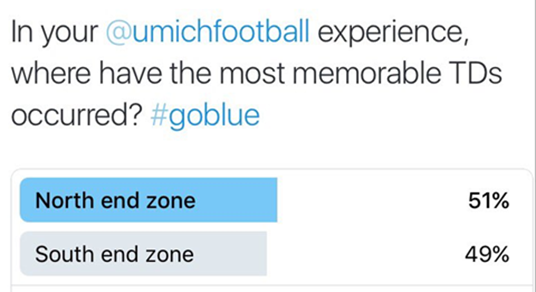 For those who don't make it to the Big House on the regular, north is the student section or generally left on your TV, south has the flag pole. For me I'm torn. The greatest moments that I've seen in person are probably the Desmond catch on fourth down against Notre Dame in 1991 in the north, and the Desmond ('91) and Woodson ('97) punt returns against Ohio State that went to the south.
A quick breakdown of huge moments by endzone, a big thanks to Craig Barker of The Hoover Street Rag:
South
Hello Heisman punt return vs, Ohio State 1991
Woodson punt return vs. Ohio State 1997
Denard first TD vs. Western Michigan 2010
Kip Taylor – first touchdown in Michigan Stadium 1927
Wangler to Carter vs. Indiana 1979
Henne to Manningham vs. Penn State
Forcier to Mathews vs. Notre Dame
Treezy UTL1 vs. Notre Dame
North
The Catch – Desmond vs. Notre Dame 1991
#BraylonFest vs. Michigan State 2004
Mercury Hayes vs. Virginia 1995
Harbaugh to Kolesar vs. Ohio State 1985
I know there's a big recency bias so far – consider this a work in progress.
Follow MVictors on Twitter