My dad used to joke that every Michigan fan owns a shrine of some form or another dedicated to their beloved Wolverines. From what I've seen he's not far off. It seems most of my Michigan-leaning pals have gathered a collection of memorabilia in their home, office, or basement. It's clear many of us feel compelled to use these pieces to capture the experience of Michigan athletics and display them, just as you would with photos of your family.
Certainly there are more serious collectors among us, searching for lost gems or relics from over the distinguished history of Michigan athletics. Earlier this year on eBay, an entire Wolverine uniform (including boots, pants, jersey, and helmet) dating to around 1912 fetched nearly $5,000. These days if you look hard enough, usually you can get what you want—for a price.
But there are certain items that aren't readily for sale, prompting some of us to take matters into our own hands.
1977 Leach Helmet
Take Wolverine fan Steve Sapardanis of Macomb Township, Michigan. Years ago the lifelong U-M fan was chatting with pal John Kryk about the distinct design of the famed winged helmets from the 1970s, and in particular, the one worn by quarterback Ricky Leach in 1977. While the casual observer might see the same-old Michigan helmets, Sapardanis always found a particular beauty in the headgear of that era.
"There was something different about those helmets," Sapardanis told me. "On the 1977 version, the three stripes seemed to almost converge at the front. Other years and designs had the stripes leaving the wings far apart and running almost parallel to each other before converging at the back."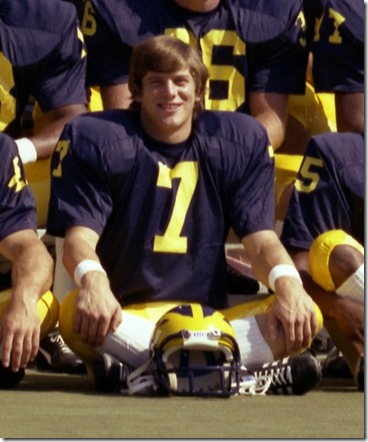 The shape of the "bumps" or the front portion of the wings was also unique.
"They were not rounded upward as they were in 1976. Rather, they were clearly angled in a downward fashion," Sapardanis explained. "They almost seemed to be a part of the side stripes – further adding to the look of the stripes and wings converging at the front."
For Steve, these design features gave the 1977 helmet, "a menacing look."
There was one element that seemed to be strictly a characteristic of Leach's helmet. For some reason, the stripe on the right side of his helmet had a slight bend or flatness to it, almost as if by accident. While the rest of the design you could say was typical of 1977, that right stripe was what set Leach's helmet apart.
Sapardanis knew that finding an actual helmet from the 1977 team would be next to impossible and even if he found one, certainly very expensive.
With the encouragement of Kryk, Sapardanis decided he'd start the quest to recreate Rick Leach's 1977 helmet. Thankfully he documented the righteous scavenger hunt of each component, a Da Vinci Code-like quest (except much more historically significant).
Here's a quick rundown of several of the pieces and how he obtained them:
| | |
| --- | --- |
| Piece | How Obtained |
| Schutt Air Power II Helmet | Traded for a Florida Panthers practice jersey |
| Dunguard Facemask (gray) | Provide by John Kryk, via 2001 eBay auction |
| Dunguard Mounting Screws | eBay seller provided them (for free!) |
| Interior Helmet bladder and padding | Donated by Jason Kryk from old high school helmet |
| Helmet Decals and BIKE Nosebumper | Designed by Sapardanis and provided by Jerome Mostero whom Sapardanis found on eBay |
Sapardanis had all of the key elements, but needed to find a way to get those distinguished wings and stripes painted on the helmet. It proved to be a challenge to get it "right". He started in 2002 with an artist from Colorado who took a shot at it, but in the end Sapardanis wasn't happy with the color or the finish.
In 2007 Sapardanis turned to HelmetHut.com to give it a shot and after a couple tries they nailed the maize tone he was looking for. He then carefully mapped out the wing design (including that flat flaw in the right stripe) with tape and shipped it back to HelmetHut to cover it with Michigan blue. When tape was peeled away and returned to Sapardanis, he was thrilled. "It turned out better than I ever expected," he recalled.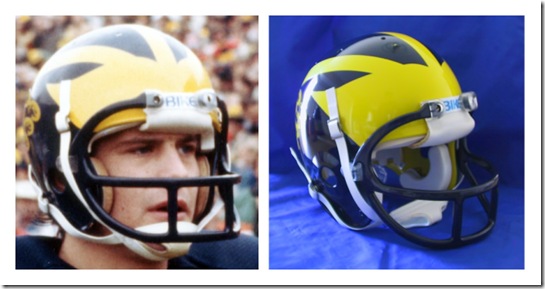 In November 2007, just prior to the Ohio State game that season, he assembled all the pieces, applied the decals and the helmet was completed. On the morning of that game, Sapardanis found Leach at a tailgate outside the stadium and showed him his handiwork. Leach was very impressed and even signed the inside of the helmet. Before handing it back to Sapardanis, Leach hollered over to Walt Downing, his All-American center on that 1977 team and suggested, "If I had a center who could block, I'd have a few more decals on my helmet!"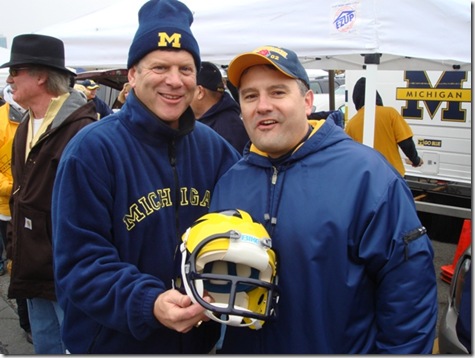 So where's the helmet today? "Let's just say the helmet is in my basement awaiting its proper placement in my soon-to-be-completed M-Room."
Recreating The Jug
Eric Mierzwiak lives in Petersburg, Michigan, a small town about 40 minutes south of Ann Arbor. While watching the telecast of the Minnesota-Michigan game in 2008, he overheard the announcers discussing the history of the great rivalry. It inspired him to start a quest similar to that of Sapardanis although his passion wasn't for a helmet or a jersey—Mierwiak set out to build a replica of the famed Little Brown Jug.
Picked from Michigan's locker room back in 1903 by Minnesota's Oscar Munson, the jug has been the prize to the victor since 1909. While the trophy crock has appeared on football programs, pins and occasionally even tiny novelty replicas, you can't exactly scoop a personal version of the five gallon stoneware jug off the shelf at your local M-Den or Moe's. (Although that would be pretty cool.)
Mierzwiak started by poring over the history of the trophy and by carefully studying the dimensions of the five gallon jug. He correctly surmised that the jug, purchased in Minnesota before the 1903 game by equipment manager Tommy Roberts at the request of coach Fielding Yost, most likely was made in nearby Red Wing, Minnesota, well known for its stoneware ceramics.
There are few potters out there right now who could recreate a jug this size, so he vigorously searched for someone offering a similarly shaped and sized crock a local auctions, antique stores and online. According to Mierzwiak, a five gallon Red Wing jug is pretty pricey. "Anywhere from $500 to $6000 depending on its condition, the markings and the quality of the firing process," he told me. This fact might have stopped more than a few fans in their tracks, but he pressed on.
"After five months of searching I stumbled upon an estate auction on eBay with a jug dating from the 1930s to mid-1940s," Mierzwiak told me. Per the auction description, the pot had been resting in a barn in southern Illinois and was in excellent condition.
"I can still remember looking at the pictures and the dimensions and felt my heart start to race. This jug was as close to a five gallon Red Wing jug that I had seen." The seller was asking $100 but accepted Mierzwiak's $80 bid.
When the jug arrived at his home it was indeed in excellent condition, although something inside emitted a foul odor. "Lloyd Carr always said that he would never drink out of the jug, and now I can say that too."
Mierzwiak gave it a thorough scrub and filled it with a mix of water and bleach to neutralize the smell. When it was full of the water, he found it was pretty hard to handle. "I don't know how anyone could pour water into a cup without spilling it all over the place," says Mierzwiak. "And if anyone tried drinking out of it they might have lost a tooth." Perhaps this explains the gaps in the smiles of many of the players from the turn of the century!
With his hands on the properly shaped jug, Mierzwiak now needed to figure out how to paint it. He queried folks online for advice. One woman, obviously not a Wolverine football fan, delivered a harsh scolding, urging him to not "ruin" a valuable jug by painting it. Once he wandered past the pottery purists, Mierzwiak learned that neither regular paint nor primer will stick to a glazed surface. "I had to use an industrial primer that is said to stick to anything," he told me. Thankfully it did the job.
Next he needed to find the right paint. Like Sapardanis, Eric took a perfectionist's approach to finding the right colors. He polled several folks online and spent much time at the local paint store (even marching in with a Michigan football jersey to compare colors) to find the proper shades to represent each team. Eventually he settled on a group of paint colors.
The Michigan athletic department was kind enough to respond to Mierzwiak's request for the proper measurements of the key design features on the actual jug, and now it was just a matter of painting them on. After painting each side and the team logos, he stepped into what turned out to be the most challenging and time consuming portion of the project–painting on the scores from the 91 games played thus far in the series.
The scores are currently set in grids in four columns, two on either side, tucked between the team logos. The arrangement is slightly off-balanced, with 48 scores on the Michigan (predominantly blue) side of the jug, and 44 on the Minnesota side including the two remaining slots which will cover the 2011 and 2012 games.
Mierzwiak wanted to be sure to get it right so he took his time with this task. "I practiced over and over to match the detail of the handwriting," he told me.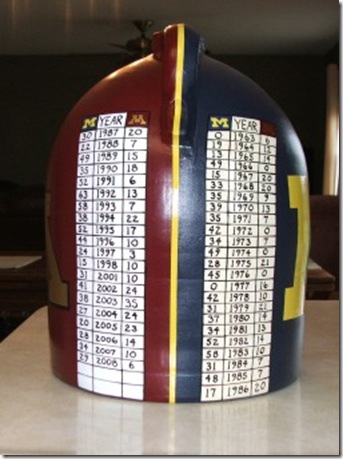 After just about one year and countless hours of work, the final brush strokes were applied and the project was completed on September 18, 2009. The replica currently rests proudly on a stand in his living room.
Mierzwiak unveiled his personal Little Brown Jug to friends and family before the Penn State game earlier this season to rave reviews.  Here's a look at the finished product: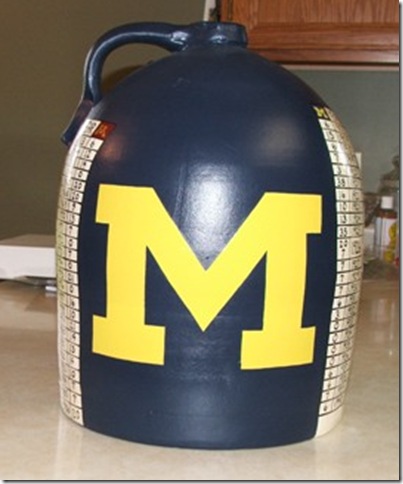 [Note: This originally appeared in GoBlueWolverine Magazine]