Ohio State Triumphs. M Grads pick up likeness of Bo
ANN ARBOR, MICHIGAN NOV. 24, 2001 It was a painful medley of futility, mistakes, and missed opportunities, as Michigan lost to Ohio State 26-20. With the loss, the Michigan Wolverines blew its chance to claim the Big Ten title and the automatic BCS bid. The inept Michigan offense in the first half, picking up from where they left off in the Wisconsin game, cost them the game. Michigan made it close in the second half but it just prolonged the pain. The whole thing just left you shaking your head.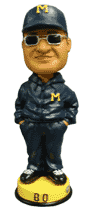 Speaking of head shaking, many fans managed to commandeer a Bo Schembechler Bo-bblehead doll on the way out of the stadium for $20. You can still buy them at the M-Den. They also were selling doll likenesses of former Buckeye coach Woody Hayes. On Sunday I saw that the Woody dolls were selling on for around $50. I guess the Buckeye fans don't realize you can buy them for $20 off the shelf right now. Hmm. The first one thousand fans received a free Bo doll.

John Navarre continues to struggle with his accuracy and his mobility. He skipped many passes off the top of on-coming rushers, and looks very unsure of himself in the pocket. Navarre continues to lock onto one receiver.
Maybe he should take a lesson from the Bo-bblehead doll and start to move his head around to look at other receivers?? That said, he should be commended for staying in there and making some things happen in the second half.
The last time Michigan lost to Ohio State at home was in 1987, Buckeye coach Earle Bruce's last game. This was new coach Jim Tressel's (Bio) first game against the hated Wolverines. This win will surely make the Ohio fans forget some of their problems this year.
UPDATE 11/28/02:
As expected, some of the Woody and Bo bobble head dolls given out at the M game have ended up on Internet auction sites like eBay and Yahoo! auctions. Some have gone for as high as $70. (This despite them being available at the M Den for $20). Many of the dolls for sale appear to be the free ones that went to the first 7500 people at the game. As many as 130 Woody dolls are on eBay.
Here's some highlights of the game I harvested on YouTube. If you have a better clip let me know: