Just opened this week's issue of Sports Illustrated and there's a cool feature on the various towns around the country that are the hotbeds for athletes training for the 2008 Olympics. In its article "The Road to Bejing", Ann Arbor is featured as the nerve center of USA Swimming, led of course by our own world champion Michael Phelps. All in all there are eight swimmers that could be swimming in Beijing currently crushing laps on campus. Per SI:
Though the pool at Ann Arbor's Canham Natatorium isn't especially fast, the Olympic pride in the two-decade-old facility is palpable. The hallway of the back entrance is lined with glass-enclosed cases holding 72 swim caps from 11 countries, each cap with the name and flag of a Wolverine swimmer or diver who competed at the Games. On the far wall opposite Bowman's office, a clock located below large Olympic rings counts down the time until opening ceremonies in Beijing on Aug. 8. The fractions of a second are extended to eight decimal places.
Must be hard to read the right side of that clock. Like the tenths on the gas pump these days.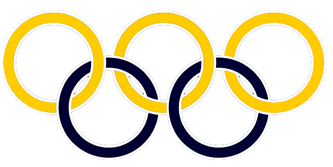 The article also gets into what it is like swimming with the guy that will be the focal point of the entire swimming competition. Fellow Olympian Erik Vendt finds motivation:
"Think having the greatest swimmer in the world after your butt each day doesn't make you faster?"
Dig it, you can check out the full story online here. Just realized my last two posts were on baseball and now on swimming. Need to get back to my football roots.