Announcement!  A few items to look for outside these pages:
Ann Arbor Observer:  I'm honored to be appearing in the July issue of the prestigious AAO.  I submitted a piece about longtime Michigan golf course Clubhouse Manager Charlie Green.   He's been working at the course since 1960 and I shared a few cool stories about the man and the course itself.   The story will be in the 'AnnArborite' section and my spies tell me it'll arrive in Ann Arbor homes as early as this weekend.  Once it's available online I'll be sure to post a link.   If you don't get the Observer, order online.  Oh, and it's free to Ann Arbor residents.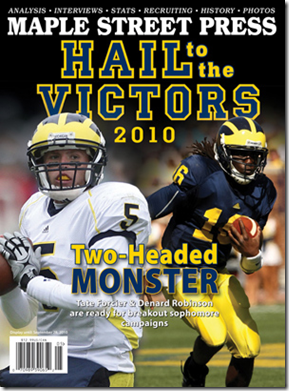 Hail to the Victors 2010:  For some reason I was sent an advanced copy of Brian Cook's amazing 'HTTV 2010' yesterday.  It is the definitive preseason guide, packed with analysis, opponent previews and yes, history.  I wrote a piece on the original Michigan stadium construction in the 1920s – I think you'll like it.  Many Bothan spies died to bring you this information so please read it.   I'm sure HTTV will show up in bookstores around town soon but if you can't wait, order it now here. 
I also appear in a short roundtable with some of the other HTTV authors.  Based on the season predictions from the panel, I think I've narrowed down at whom coach Rodriguez is staring on page 128.   Yikes!  
GoBlueWolverine Magazine:  More from my interview with Michigan head soccer coach Steve Burns was released for free online on scout.com.   Subscribers get the full interview – but there's some unreleased content out there now. 
One other item:
Hopefully I'll be announcing a new local sponsor for MVictors.com soon – stay tuned, and don't buy anything yet this weekend in town until I make the announcement.  Deal?