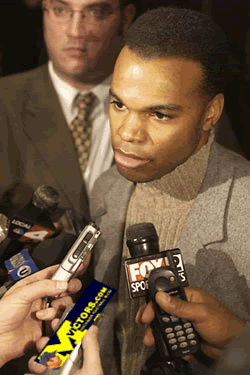 There was a lot of talk heading into this season on what it would take for Amaker to keep his job. Concensus amongst talk show callers was NCAA tournament or the highway. Of course it is not that simple. Bill Martin made a tough decision and give him credit for not taking the path of least resistance by firing Coach Amaker. I'm sure he had a conversation with President Coleman about this, given that Amaker's wife is associate dean of students and a friend of MSC. A few thoughts:
Surprise? In my mind I felt there was a 50-50 shot that Amaker would lose his job after the season. It was clear they weren't making the NCAA again. Somehow I was still a little surprised when I heard the news of the firing. I'd say the vast majority of M fans are pleased that the school is taking a new direction.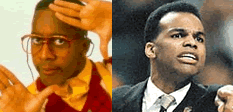 Izzo
I'm a huge supporter of Coach Izzo and had a ball watching the Spartans battle North Carolina last night at Fraser's Pub. Those guys play like hell for him and I'm envious. This said, I read some of Izzo's comments in the paper today about the firing. Basically Izzo didn't like the firing and suggested that you can't put all of Michigan's recent track record on Amaker, and suggested the facilities, etc., had something to do with it. He added that Michigan needs to evaluate everyone from the top down; a shot at Bill Martin. I understand him sticking up for his friend Amaker but I wished Coach Izzo would have said he was disappointed and left it at that.
Resources Beyond wishing Izzo would shut his yap on this, he of course is right. There is more to blame than just the coach. Michigan tries to run a first rate program with small conference resources. Michael Rosenberg in his Free Press column begged "Here is a crazy idea: Why doesn't Michigan close the truck stop and start a major basketball program?". Can't agree more. It pays its basketball coach less than average for the priviledge of coaching at Michigan – hogwash. Crisler is defended as an adequate facility – bull. Leaders and best? Times have changed and Michigan needs to decide if it wants to support a top program. I heard a guy on the radio last week (while cleaning out my garage – it is spotless from floor to ceiling), and he said something I thought summed it up.."Michigan has the basketball program that they deserve right now." He was right on.
Possible coaches We'll have to see if Bill Martin ponies up for a big time name. The dude from West Virginia has been mentioned but he has a $2.5M buy-out.
Why this matters We'll be watching this closely because what Martin does will correlate with his handling of C-Day: when Carr retires and Martin is tasked with setting the course of Michigan football for the next decade.