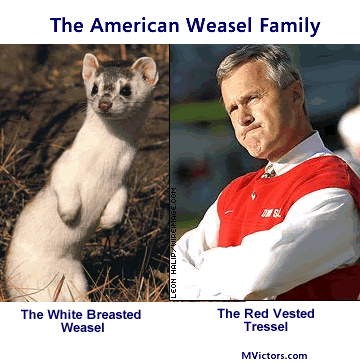 It is really odd how college football gives the some power to the coaches to determine the structure of the post season. Can you imagine another sports league where this would be acceptable? What if the NFL coaches voted on wildcard teams [would Bill Belichick leave the Jets off his ballot]? It's silly, but I guess no sillier than allowing members of the media to vote to determine the worthy team or the computer system.
So the system it what it is and the college coaches had a major say in sending Florida to the big game. Here's my take on some of the coaches and their votes (or lack thereof):
Lloyd Carr: Once again Carr shows a lot of class by not campaigning and not calling out Florida. While he laid off Florida, he did manage to get off a shot at Urban Meyer [or 'the Florida coach' as Carr called him] for whining like a baby and specifically calling out Michigan. 2 Thumbs Up.


Jim Tressel:
I understand where he is coming from by not voting. Tressel definitely was in a unique position by having the opportunity to influence his opponent. This said, every coach in the Big Ten and the SEC had a hard choice to make. If they didn't vote for the team in their conference they would no doubt get some heat. Carr called Tressel's no-vote "real slick" but when asked if he would ever abstain from voting he offered a concise, "No". This is a clear indication of his feelings about Tressel ducking out on the tough decision. Asking these coaches to rank the teams 1-25 is ridiculous anyway, but Tressel should have sacked up and picked someone and I would have expected him to hold Michigan where he had them the week prior. Every single SEC coach voted Florida #2. In the minds of Michigan fans, a not voting is a vote against Michigan given that Tressel is from the Big Ten. Given his unique situation I give Slick Jimmy a little slack, but he should have sacked up and voted.
Ron Zook. Illinois coach went away from the conference and voted for Florida #2, citing the fact that the Gators played an extra game than Michigan.
Zook said "I think if both teams would have played 13 games and been 12-1, I probably would have gone with (Michigan)."
To me this shouldn't really come into play. The SEC made a money grab by adding a conference championship, and one of Florida's wins was against Division I-AA Western Carolina. Zook should have kept his big yapper closed. 2 Thumbs Down.
Urban Meyer Wiener. He's still an Urban Meyer Wiener, even bigger now.