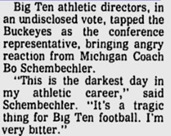 You know the story back in 1973. 
Michigan and Ohio State tie 10-10 in The Game and each team finishes the season 10-0-1.   The trip to the Rose Bowl is determined by a vote of the conference athletic directors, who, influenced by the injury to U-M QB Dennis Franklin, favor the Buckeyes 6-4.
Bo tells reporters it's tragic and the darkest day of his career (left).   Ann Arbor is stunned.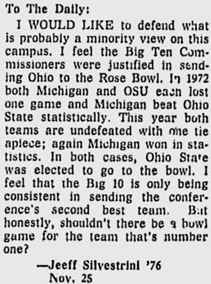 Students on campus were shocked as well.  At least one student, Jeff Silvestrini, met the news head on with some early 70s snark in his letter to the Daily (right).
I tracked down Silvestrini via email who wrote me, "I can still recall the mood on campus when that vote was announced and how stunned everyone was.  I went to the UGLI that day and people could not believe that a broken collar bone could keep Michigan out, particularly as OSU had gone the year before." 
I think that echoed the sentiment of most folks that followed the Wolverines back then (and now, I suppose, given that Ufer, U-M fans and elephants never forget).
And to make sure that folks wouldn't forget either, someone was inspired to get the message out on the cars and file cabinets across the land.  Once again tapping into the Sapardanis archives from the 1970s, check out this purely awesome bumper sticker produced in the aftermath of the vote.  And yes, it's that finger:

Pure gold!!
Follow MVictors on Twitter