I really don't function too well when I'm watching these games and it's gotten worse since as I was in New Orleans two decades back.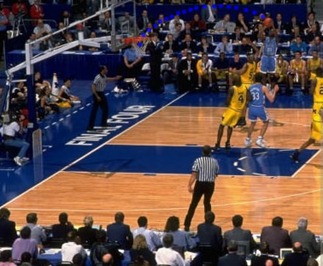 Funny, the lingering painful image I have from '93 is not Webber's timeout but rather Donald Williams out on the wing with his legs and arms extended (wrist snapped), slinging in three and after three like he was Spike.
It got worse at the 1998 Rose Bowl. Arms folded, I barely said a word or moved the whole game. Thinking about the never-ending string of late-game third-down measurements still makes me twist. I've seen highlights of course (and more importantly, I know how things turned out!) but I'm not interested in watching the entire replay again because it was so agonizing.
Last night, once I arrived in section 227 I offered the occasional fist bump to the fellers around me but never moved from the seat—for anything–from tip to the time I walked out.
I don't think I'm alone. My dad once asked one of his pals, a big Michigan fan, why he didn't really ever go to the Big House despite living within an hour. Reply: "Because they break your heart." It was heart breaking last night.
At times It's Great to Be a Michigan Wolverine but for a lot us, especially when we're on the brink like this, it's also agonizing TBAMW. Look, I'm what Mike Gundy would call a man(+1) now and I have an incredible family at home. Believe me I can and do put this stuff in perspective and rebound quickly after the game is over. But in these situations in the moment it's almost impossible for me to truly enjoy it. Nevertheless, like a moth to the flame I will return again, hopefully soon.
All that said I feel better today. There seems to be some serious love along with a deep appreciation directed at Crisler Center for what just happened over the past few weeks. One unique aspect of going to the Final Four is that win or lose you really can't take it away (ok, sometimes it gets taken away) and these guys won't be forgotten. I liken our fandom in this case in the role of a proud parent whose son or daughter just finished 2nd in the Spelling Bee. (Winning word: "incidental").
The fans in Atlanta were outstanding, and hats off to the Louisville masses for being first class. The Syracuse fans, FWIW, were coach class.
Thankfully Michigan fans, by and large, aren't blaming these Sun Bowl-esque refs for the loss, although they nearly ruined one of the best games in recent history. I hope Jim Delany sends them a sternly worded tweet instructing them to do better.
But for M fans, now? Let it go, man, at least right after you check out the gif of the Burke block that Ace posted at mgoblog, not because it's a demonstration of the crappy call that it was, it's just…well just LOOK AT IT and ACCEPT IT before it destroys you!
TOUCH MY BLOCK, LEIBE MEINE BLOCKIEREN!
And the Fab Five? That's personal business for me because they were classmates and I'm widely biased about how I feel about them, even Webber. I'm glad they showed up. I feel like a big piece of this was put behind us this weekend. And according to Sam Webb this morning having those guys in the locker room after the game to check on the team seemed to give Burke and crew, who were clearly devastated, a boost.
And speaking of the Fab Five, Jimmy King's interview with Sam and Ira Monday morning was gripping. Please check out the full podcast here. If you listen really hard you can hear my jaw drop from my bed as King described black hole of communication. As Jimmy (and Jalen on Grantland) clearly described, it was such an awkward thing between the other 4 guys and Chris that I hope Monday they worked things out. Whatever it was.
The Misc:
Meeemmooorrriiiesss. Yes, these massive games are painful for me but the days and nights are a blast and tend to bring old and new friends together. Shouts to: the #THC for scoring the tickets and for the escort to The Varsity, Ira's folks for taking us out for an amazing dinner Sunday night, Kerri of Support Brady Hoke and the whole crew that came to Friday's epic happy hour++, mgo-Brian and Anthony for all the laughs Saturday postgame at the Marriott, and Ira's crewmates and Jamie and Al for hanging out, and #007 Kyle B. from GBW for turning "one last beer" into 4 Sunday night. It was also great to bump into old house buds Dave K., Brett G. and George R.
Hotel Radio. One last note—it was an crazy experience watching Ira and Sam do their radio shows (Sun-Tue) from room 327 of the Marriott. If you listen to these guys you know they are talented broadcasters but you should have seen Ira coordinate the show with mobile equipment at our hotel room desk. I might start calling him Maestro. I know a little about technology, hardly anything about broadcasting, but needless to say it was really impressive watching him coordinate all the guests, callers, breaks, live reads and recorded advertisements. I'm guessing if you were listening on iHeart or in Ann Arbor you didn't notice the difference from the "real" studio experience. Here they are: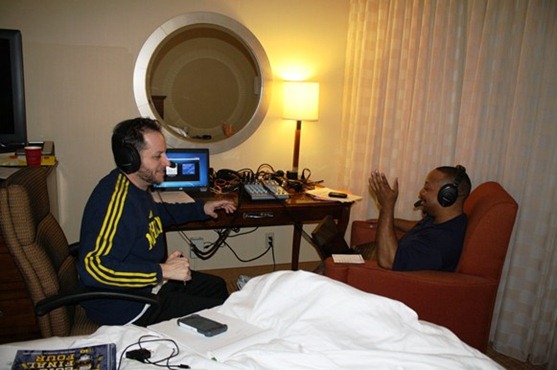 A few misc photos just because– President MSC, Desmond, Novak, Chuck and Denard [note: I don't know who snapped that pic, it was sent to me, rest are my pics], and quick view shot before the national anthem: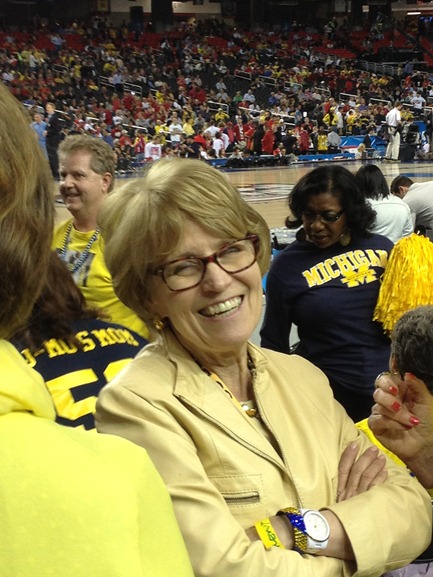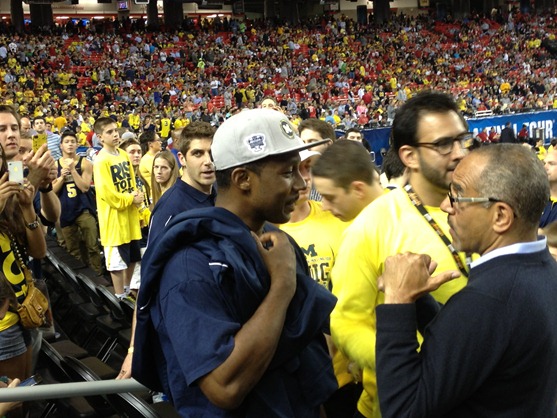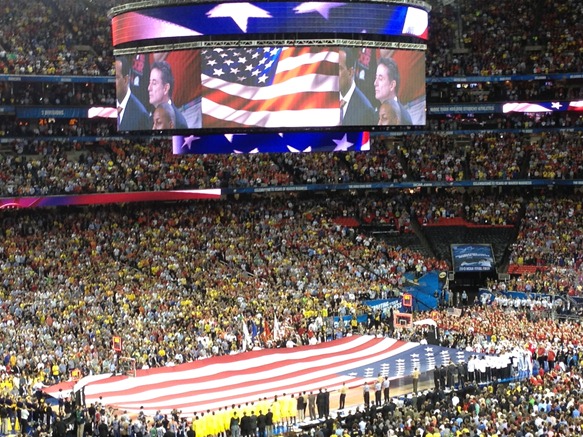 Follow MVictors on Twitter