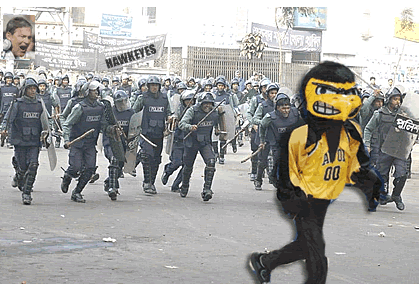 Sounds like a freshman end on the Hawkeyes gave the Iowa police all they can handle on Saturday:
Defensive end Riley Reiff, an incoming freshman from South Dakota, was arrested after allegedly leading at least eight Iowa City police officers on a 20-minute foot chase, multiple media outlets reported. The 19-year-old pleaded guilty to misdemeanor counts of public intoxication and interference with official acts.
A few takes:
* Eight cops? How many officers are on duty in Iowa City on a given summer night?
* This story was posted Sunday. So let me get this straight- all this happened on Saturday night/early Sunday morning??:
a) got drunk and did something wrong
b) was chased and caught by 8 cops
c) was arrested, booked and charged
d) pleaded guilty and that's that?
Swift Iowa justice I guess. Jeez, I wish the issues in Ann Arbor were settled this tightly. You avoid the double public sting from the arrest itself, and then with the follow-up court date(s).
I read elsewhere that all this will cost him $562. Umm, if I went on such a rampage I'm guess I'd be cleaning the Big House after games for the next decade. Jokes aside, he's a young kid, glad he may get a break on this one.

Elsewhere: According to a blurb in the Miami Herald, Urban Meyer "told a Miami audience that Tebow 'is the greatest player of our era."' Wiener.