So as we limp charge confidently into Saturday's opener a few notes: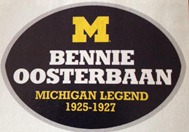 Oosterbaan: You know the great Bennie O. will be honored Saturday and his #47 will be on the back of someone on the roster for the remainder of the year.  (Jeremy Jackson?  Not sure, but looking forward to finding out.)   But if you pick up a game program, I prepared a profile on Oosterbaan that attempted to get a feel for what the man was like off the field.  It includes a few stories from his family and one from my man '64 Jim Conley.  A sneak peak:
"He had huge mitts," Conley recalled. One day Oosterbaan was teaching the players about how they needed to be ready to catch the ball wherever it came—high, low or to the right or left. Bennie then asked a player throw errant balls in his direction. "We tossed him a low one and he leaned down, tipped the ball up with one hand and caught it in the other hand. Then he did the same thing with a high ball, and then with a ball over to the side, and so on. He didn't drop anything. Keep in mind he was in his late 50s and wearing a suit. It was an exhibition–you just marveled at it."
The Banner:  Did you know that 2012 marks the 50th anniversary of the Michigan banner tradition?   There will be a mention on this in the game program as well – and I have a few thoughts on what makes that whole moment so special.  But I refer you to a John U. Bacon piece from a couple years ago on the origins of this fine tradition— so check it out.  Not mentioned was this, one of the low-lights in the history of the banner tradition, when Zoltan over-cooked the touch and almost lost his life:
Books Part I:  Speaking of Bacs, did you know the paperback version of Three and Out is upon us?  It includes new content in the form of an Afterword reviewing up the 2011 season, following up on all the main characters, and drawing some final conclusions.  Want to win a copy?  Stay tuned – the publisher is sending me a couple so get your haikus ready.
Books Part II:  I've heard nothing but great things about the Michigan Daily's book that chronicles the history of U-M football.  I've held it in my hands and plan to pick up a hardcover copy on Friday night when I'll be swinging by a party celebrating the release.   Get yours:  I recommend the hardcover, which you can order directly from the Daily here.
Follow MVictors on Twitter