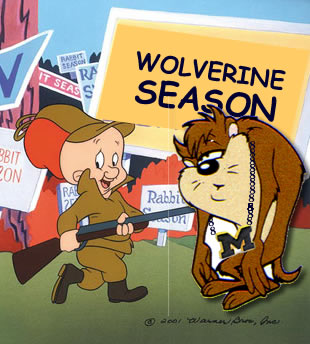 Why's everybody picking on the Blue?
Have you noticed all the Michigan sports bashing in recent weeks? Here are few examples that I've seen, some of which I've already discussed:
– ESPN Radio's Colin Cowherd's rant, ripping Lloyd Carr and the Michigan program in general. In sum, Cowherd trashes Michigan over the past 5 years and in particular, Michigan's development of players. He points to recent NFL drafts and the lack of big time draftees.
– ESPN.com's Pat Forde, declaring Florida's starting five as the true "Fab Five". He starts out saying that the Florida crew is "Better. Cleaner (one would hope). Tighter…And much more accomplished." (This despite that these guys aren't freshman or sophomores, or even from the same recruiting class). There are also references to Thad Motta's recruiting class as the 'Thad Five'. One thing is for sure, 15 years after these guys took the court their place in college basketball lore is solid, despite the NCAA violations.
– Collegefootballnews.com taking big shots at the Michigan football team, going as far as to reach back into time and challenge the 1997 national championship based upon recent bowl performances.
– How about Tom Izzo knocking the overall athletic department and its handling of basketball program?
– Then add in Jay Bilas telling anyone who would listen that Michigan isn't a top 20 basketball program, after his little buddy T. Amaker got the boot.
– Finally, although not a direct shot at Michigan, was anything worse than the Sports Illustrated cover story dedicated to the entire Ohio State atheltic program???