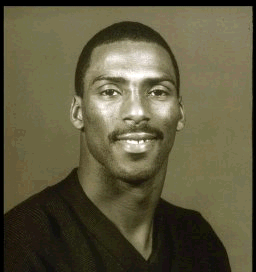 Garland Rivers – mgoblue.com
As a follow-up to my May 20th eBay Watch post on the 1986 Rose Bowl ring. The seller pulled the auction in order to provide some more information about the ring, perhaps to fetch a little more dough. The updated auction description offered more on the size of the ring, weight, etc., along with a few additional photos. [see the auction here].
The seller also dropped hints as to the identity of the original owner:
We have researched a little regarding the player named on this ring it is our understanding that this player was a starter for Michigan during the regular seasons in which he played as well as in the Rose Bowl. He also played in at least one other Bowl Game with Michigan and that he held a team (Bowl) record for well over 10 years.
Digging into the records on the 1986 team on the Bentley Library site, you obviously can narrow the list down to the starters in the Rose Bowl, then look to year before and after to find a player that started multiple seasons. Digging further, I reviewed the current Michigan individual Bowl record holders per the Capital One Bowl media guide published in late 2007.
One name jumped out to me: All-American defensive back Garland Rivers. He meets the criteria above as a multi-year, multi-bowl starter and he currently holds the record, albeit a tie, for the most tackles from the 1984 Holiday Bowl, where he was busy chasing down Robbie Bosco's receivers:

As an All-American, mgoblue.com displays his letterman photo and a brief bio:
Always a threat wherever he happened to be on the field. Garland Rivers earned respect from offensive opponents with his fierce tackles. The only freshman to win a letter in 1983, Rivers started 32 consecutive games until a brief shoulder injury sidelined him in his senior season. Rivers intercepted six passes in his career, including one for a touchdown against Wisconsin his junior year. That same season he produced a game- saving interception in the Nebraska end zone to seal Michigan's 27-23 Fiesta Bowl victory. Rivers earned 1986 Kodak and Walter Camp All-American honors as well as AP-UPI All-American Honorable Mention.
So technically he fits the criteria set out in the auction, but would Rivers sell his ring? I don't know Rivers and I certainly wouldn't know if he's a guy that would sell his ring or if so, why. Of course there's little doubt the occasional stolen item ends up on eBay so its existence doesn't mean a player willingly gave up this award.
But Rivers didn't exactly exit Michigan on good terms. From the curiously extensive Wikipedia entry on Rivers:
His college athletic career was not without controversy. He was named by Michigan Football coach and Michigan Wolverines athletic director Bo Schembechler as one of two players (the other being Robert Perryman) who had transgressed National Collegiate Athletic Association rules in violation of their amateur status. According to Schembechler, both players had signed contracts and accepted loans from agents before their college eligibility expired. Schembechler testified in a Federal District Court case involving charges of mail fraud and racketeering against Norby Walters and Lloyd Bloom. According to Schembechler, Rivers had denied having entered into an agreement before the team's 1986 NCAA Division I-A football season had ended in a meeting with him, but confessed in a Federal Bureau of Investigation meeting. Because the investigation occurred late in the Spring academic term at Michigan, River's athletic scholarship in the form tuition and room and board had already been fully paid by the University. However, when Rivers returned to Michigan in 1988 to complete his degree, the university did not provide a scholarship for which he would have otherwise been eligible.
The Wikipedia post references this March 23, 1989 New York Times article titled, 'His Players Broke Rules, Schembechler Testifies'. In it, coach Bo recapped the incident and how it was handled:
Rivers denied the rumors until agents of the Federal Bureau of Investigation confronted him at the university, Schembechler testified. The coach then met with Rivers once again, telling the athlete that he had lied and that his actions could have cost Michigan the Big Ten championship.

"I told him he was a disgrace to Michigan football," Schembechler said. "I told him no more grant-in-aid. His locker is closed, and his picture has been taken off the wall."
Would it be a surprise if this were Garland Rivers' ring? Not after this incident. We don't know all the details or specifically Rivers' side of the story, but it is safe to say things didn't exactly end smoothly after the 1986 season. If anything, you wonder if they actually gave Rivers a ring at all after this went down. As mentioned above, the official website still has the bio posted and this isn't a Chris Webber situation where existence is wiped off the books.
All this said, after digging a little further, I don't think this ring belonged to Rivers.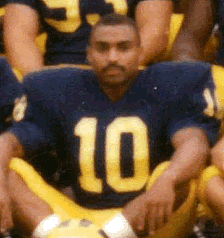 Allen Bishop in 1987 Team Photo: Bentley Library
I think it belonged to one of his teammates in the defensive backfield in 1986: Allen Bishop. Bishop meets the criteria having started multiple seasons and multiple bowls, and Bishop not only holds the same record for total tackles in a bowl game, he also holds a single game record to this day for his ridiculous 15 solos in the '88 Hall of Fame Bowl:

[sidenote: didn't it seem like David Harris has 80 tackles in the 2007 Rose Bowl, instead of the 8 officially recorded?]
Further, a closer scan of the new images of the ring in the auction with my Cracker Jack magnifying glass and the Bishop theory takes hold. You can almost make out the top of each letters of B-I-S-H-O-P on this pic, and the top of the "H" really seems to fit, judge for yourself. And on another view, it appears as though you can side the round shape that would form the inside of the letter P, and the side of the O and the top of the H: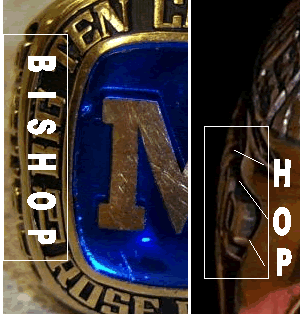 Once again we don't know if the Miami, FL native would sell his ring or if he willingly did, why. I'd love to hear from Bishop or the folks close to him like we did with Coach Bill McCartney's family after his alleged 1981 Rose Bowl ring showed up late last year.