Letters continue to steam into the Ann Arbor News. I scanned the paper today and the News dropped the Rodriguez missives in their own little section. This gem from writer Leslie landed inside 'FOCUS: U-M FOOTBALL' on the Opinion page: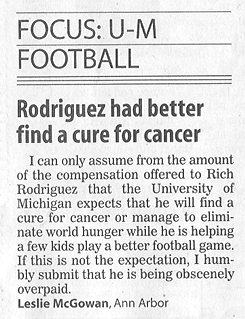 Ann Arbor News 11.10.07
As if Rodriguez doesn't have enough people coming after him for what's he's actually paid to do. Leslie couldn't resist herself and dropped the old coaching-salaries-are-out-of-control anvil.
Yes, the sales of Twizzlers at Saturday's game could fund a ballet troupe for three decades–we got ya Leslie. Indeed there are more important things in the world than football. But guess what–There's a reason why 110,000 people pack into Michigan stadium each week and millions more watch on TV. We need an escape, sister, so lay off the U. and Rodriguez & fly right.