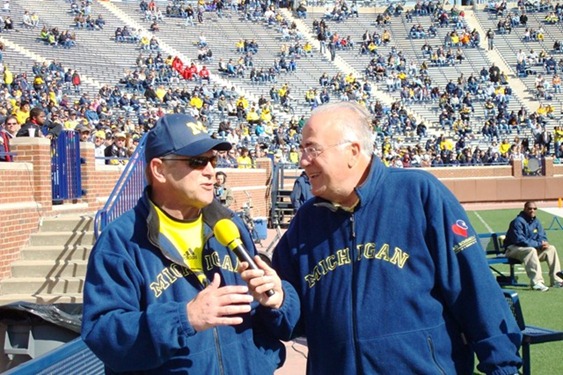 Ricky and Franky
Saturday will be the home finale for many folks involved with Michigan football: the departing seniors of course, legendary equipment manager Jon Falk and longtime broadcaster Frank Beckmann (and yes, many longtime fans based on the recent tweets).
Much has been said about about Falk but notsomuch about Frank. I think he's done a great job broadcasting and he's had some legendary calls. Following Bob Ufer behind the mic is beyond impossible and I tip my maize and blue fedora to Beckmann.
So check this out. Thanks to the Art Vuolo and Dr. Sap archives here are a few clips from the radio broadcast of the 1981 Notre Dame game in Ann Arbor, Beckmann's first season calling games. Ufer was ailing in '81 and Beckmann stepped in to call the opener against Wisconsin, a stunner where Bo's #1-ranked crew fell to the Badgers. The Irish took over the top-ranking the following week and came to Ann Arbor to face the wounded blue.
A few months back Sap told me that this game contained moments of Frank and Ufe on air together and I thought it'd be cool to share a few heading into the finale.
Running down the clips:
Clip #1. The transition from pregame to kickoff, as Ufer hands the broadcast over to "Frankie" Beckmann, but not before Ufe busts his chops about his prediction in the Tommy Hearns-Sugar Ray Leonard fight, coerces a favorable game prediction out of him for the ND game, & confirms that Beckmann is decked out in maize and blue.
Clip #2. Beckmann calling the first score of the game, a 71-yard bomb from Steve Smith to Anthony Carter. Frank not quite there with the "big play" call yet, but he definitely got it down later on.
Clip #3. Closing out the game, the crowd knows what's going on with Ufer's health and chant his name, "UFER! UFER! UFER!". After Ufe acknowledges the crowd (presumably through a window in the press box) Beckmann gets on the air, "You are amazing Mr. Ufer, you are amazing. Goosebumps. I got goosebumps."
Clip #4. This is a couple minutes later (after #3) as the game is closing out. Listen closely at around 27 seconds– there's a moment Millie Schembechler enters the broadcast booth to see Ufer, presumably to send some love his way knowing his condition. You can hear Ufe quietly say "Oh Millie, oh.."…perhaps after a hug or when he firsts sees her. She's on air briefly before the game wraps up with what is an emotional listen for me as Beckmann starts to count off the final seconds but Ufer takes over and takes it home. And in Ufe fashion, he delivers his Robert Frost Ufer poem summarizing the historic victory over the Irish.
Enjoy:
I've told a few folks it was a little emotional for me as I was slicing up those clips. Ufer was honored a few weeks later at the Iowa game, and died shortly after that. Beckmann dutifully continued for the next 32 seasons and will give his final home call Saturday.
Go Blue!
Follow MVictors on Twitter