After living the game day experience through the eyes of the media for the Western Michigan game, I looked forward to dialing things back into fan mode. I queued up before the gates opened to the U-M Golf Course it wasn't long before I was settled in with a drink and a newspaper as the sun rose.
Game day in Ann Arbor means different things to different fans. For some it's an opportunity to get outside and enjoy the color, sounds and excitement of college football.  Others see their meticulously planned tailgate parties as a sacred ritual.
No matter how serious you treat the game day experience, it's hard to trump what it meant to Scott Hawkins on Saturday morning.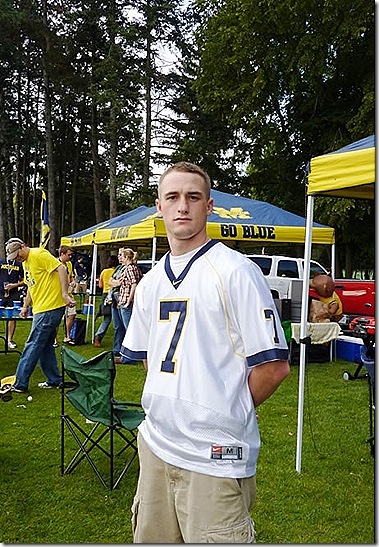 Marine Scott Hawkins, six days before heading to Afghanistan
When I spotted Hawkins tailgating next to our group he looked any other young man hanging out that morning.  The difference is that Hawkins won't be back next week or for the rest of the season: the 20 year-old Marine is being deployed to fight in Afghanistan on Friday and won't return until at least April.
And he's leaving much more than friends and Michigan football behind–his wife Crystal is pregnant with their first child.
"They baby is due a month before I'm scheduled to come home," said Hawkins.
Couldn't they consider getting him home early given the circumstances? His quick answer summed up that prospect: "Negative."
On top of being thousands of miles away, the mere ability to reach Hawkins' boat is at the discretion of the captain, who assesses the security risk before allowing communication in or out of the amphibious unit.  Scott told me that his wife Crystal understands the policy but doesn't really agree with it adding, "I just pray that I'll be able to know when she goes into labor."
I spoke to Hawkins's father Rob Plethers, who was both excited and emotional that morning.  He told me that they're not sure where his son will be going to in Afghanistan but that he expects "it's probably going to be in a rough area."  His amphibious unit will contain members of the elite Navy Seals and as I understand it they don't send those guys in to set up the volleyball games.
Like most Wolverine fans, Scott knows his football and considers himself a lifelong fan.  Naturally I asked him about the Rodriguez-led Wolverines and the spread offense.  Donning a white Chad Henne's #7 jersey (I was kind of hoping it was for Ricky Leach), he offered above-average expectations on the season, "I'm hoping for eight wins, maybe nine.  I see good things happening once we settle down on a quarterback."
Inspiration for the Aggies
Hawkins played football for Dansville, a small town not far from Lansing.  On Friday he was asked him address the current team on a day that coincided with the eighth anniversary of September 11th. It wasn't lost on me that Hawkins was a boy, just 12, when the attacks occurred.
The 2009 version of the Dansville Aggies were outscored 80-0 in their only two games of the season and there's no doubt the coach was looking for inspiration to boost the spirit of his squad.   He found it in the 20 year-old Marine.
"I told them about the importance of separating business and pleasure," Hawkins explained. "This is a young group of guys and I know that they want to have fun.  But they need to understand when it's business time."
He told them, "If you play with intensity, courage and a commitment to the team it will make believers out of the fans in town. People will come and watch you play.  As players, this will lift you up and give you a reason to want to play."
Hawkins confirmed that more than a few players got teared up during his speech. "I told them it was all right to cry.  It's fine," he told me.  "It just showed me how fired up they were."
The Aggies got the message.   As Hawkins watched from the sidelines, Dansville came away with their first win of the season, a 33-27 victory over Bath.
Business Time
As the sun dipped away early Saturday evening, Michigan fans stormed out of the Big House basking in the great victory over Notre Dame.   I returned to the golf course and found Hawkins with a wide smile.  He heads off this week with the memory of a great day of friends, family and football in Ann Arbor.
This Friday many of us will be making our preparations for another tailgate party, hoping the weather holds and the Wolverines continue to get it done on the field.  For Scott Hawkins and his fellow Marines heading to war in Afghanistan, Friday is business time.