Readers of this site know that the Little Brown Jug has but a pair of rows left for scores: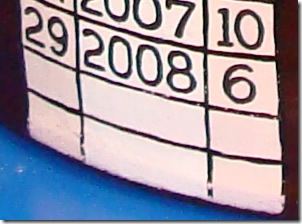 After 2012 we're hosed. 
When I first posted a set of potential options to resolve this matter, I was truly surprised by many of the suggestions.  I've had a few new comments including this gem from reader bjk:
As currently configured, the jug is sort of like the Mayan calendar, built to exhaust itself after a certain point.
The options are as follows, (read the full post for more discussion):
1. Stop putting score on the jug
2. Remove some of the old scores
3. Make the jug bigger, aka the Stanley Cup solution
4. Repaint the existing score columns in a smaller font
5. Add new scoring columns in the free space on the jug
6. Retire the existing jug & start a new one
I'm firmly on #4.  Make the existing columns tighter, the numerals smaller and buy yourself a lot of time.  The jug has been restyled a few times for this very purpose, so it's not a break with tradition.
What do you think?
Loading ...
Related:
Little Brown Jug Lore 
Follow MVictors on Twitter