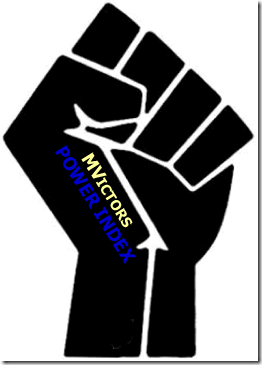 Given we're halfway through the schedule, I'm reinstituting the weekly MVictors Power Index, which rates the Big Ten and Notre Dame.  As discussed last year, while there's many solid polls out there including the excellent BlogPoll, the thought would be that it'd be cool to rate the teams tightly within our purview.
Each weekend pollsters (select group of contributors from Michigan, Ohio State, Wisconsin and Michigan State) will rate each team against the others and assign a simple score:
* '2? indicates Team A would beat Team B in the upcoming week with reasonable certainty (approximately 80% of the time)
* '1? indicates a toss-up
* '0? indicates a loss with reasonable certainty (80% of the time).
Ratings assume the teams would play on a perfectly neutral field. The totals are tallied and an index is created using a perfect score (11 match-ups x 2 points or 22 points) and the teams are ranked. 
What I like about this:
* Having the Irish rated in the mix of the Big Ten teams. As a Big Ten fan, you know you slot the Irish in your head; now we'll have a data point.
* I think this beats simply slotting these teams 1-12. The index shows a more detailed level of separation between the teams (although maybe not this year).
* This attempts to remove any bias based upon schedule (home vs. away, or pure schedule avoidance).  The goal is to arrive at the strongest team, not necessarily the team most likely to win the conference championship due to advantages with their schedule.
* With the Big Ten Network, the pollsters have a realistic shot at seeing each team play each week if so desired.
* Current pollsters include dudes with various affiliations, from Schlimmy the Bucknut, Biggie Munn the Spartan, Lew the Hoosier/Wolverine and quasi-closet USC Trojan, and the Webmaster the impartial bystander.
Here's the initial Index: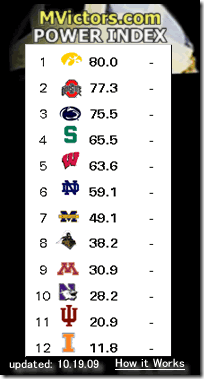 For those that think this index is going to be slanted toward ol' Michigan, well, the group was pretty hard on the Wolverines IMO, slotted well behind Notre Dame, Michigan State and Iowa despite beating the Irish and of course giving the Hawks and Spartans all they wanted in their houses.
Pollster comments:
* Schlimmy the Buckeye, on his Bucks: "Going into the year I didn't see them as a top 10 team but also didn't see them losing to Purdue.  Pryor has a LONG way to go to become a elite quarterback (I have no idea why he was voted pre-season offensive player of the year) until he can learn how to: a) read a defense; and, b) not throw like a girl.   The Buckeyes will struggle for the rest of this year and beyond, luckily for Pryor and the rest of the Buckeyes they are a extremely young team especially on offense.  They had these same offensive woes in Troy Smith's early days and things worked out pretty well for him in the long haul."
* Gilliam the Badger: "My take on the Badgers is the same as it was in the first few weeks of the season: is the coaching staff doing everything they can do to get the players ready to play, and do we have the character and leadership to steal the tough games?  At this point in the season, I have been surprised by QB Scott Tolzien's effectiveness, disappointed by RB John Clay's lack of intensity, and still wondering about Head Coach Brett Bielema's leadership and game management. The Iowa game showed me a little of everything: Scott Tolzien plays well overall, but makes game breaking mistakes for the second week in a row against the league leaders, O'Brien Schofield has emerged as a defensive star and team leader, and finally, Bret Bielema continues to make me doubt the direction of the program."
* Biggie, the Spartan:  "After their slow start Sparty is right in the thick of the Big Ten race.  A lot of that has to do with the fact that the league is horrid, but State has their two toughest remaining games at home and has a legit shot at the Roses.  Glenn Winston was really starting to find his groove and I think before the end of the year his loss could catch up with this team.  If Nichol is healthy I really hope Dantonio gives Cousins 90% of the snaps and lets him find his rhythm.  Saturday nights game at Spartan Stadium is going to have an incredible atmosphere; this one should go down to the wire."