Ugh.  Michigan dips further but somewhat surprisingly not quite yet at rock bottom, but just barely.  At the top, the Buckeyes hold their filthy grips on the top slot with the impressive win over Penn State.  Sorry for the delay: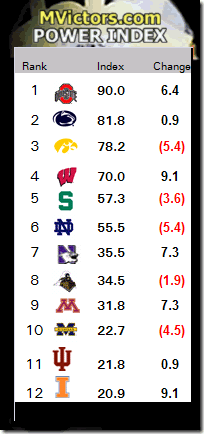 Comments from the pollsters:
Biggie – What a fantastic fall day to enjoy college football.  Gotta a chance to tailgate at the "Bronco Bus" with a bunch of my buddies that attended WMU.  Western was the elixir MSU needed after two straight heartbreakers.  With Larry Caper sitting out the game, Ashton Leggett came out of  nowhere to earn himself some time at RB.  AL runs hard; he reminds me of Jehuu Caulcrick.  Cousins continues to prove that he is the QB for State.  Huge game next week in West Lafayette if Sparty has any intentions of going bowling.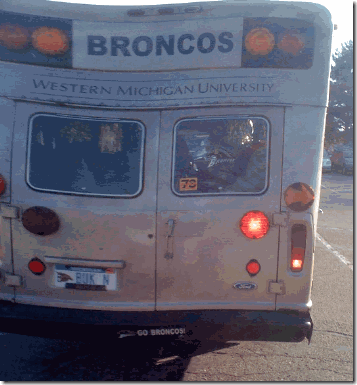 Schlimmy – Maybe I'm not going out on a limb to far here but I believe that Brian Kelly will be the next coach at Michigan, whether that is a month from now, a year from now or beyond it seems like a perfect fit, obviously he's been very successful at every level and has some ties to Michigan (Grand Valley and CMU)  In saying that I believe Rich Rod will get a least next year to turn things around but it seems like Kelly would be a solid choice to me.
Gilliam – Things are fine in Badgerland, as we got two rushers over 100 yards for the first time this year. But maybe most significantly, with Zach Brown still nursing an injury, and John Clay out with a concussion, true freshman running back Montee Ball came in and ran for 115 yards. With good size and speed, and the all time Missouri state rushing record (don't quote me on that, but he finished with upwards of 8,200 yards), Ball is a future Big Ten star.  If we can rule on the ground and time of possession, Bucky should continue Michigan's slide. Make it UW 31, Michigan 24.
Lew – Not much to say this week.  Thankfully, a vacation spared me from having to watch the collapse in Michigan Stadium.  I also had the great fortune to be on vacation the first two games at the beginning of the 2007 season.  So I've got that going for me.