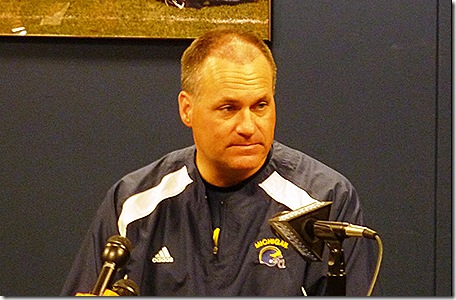 [Ed 4/14 – audio fixed.]
A few notes from the press conference:
Rodriguez met with the media for about 20 minutes.  He started off with an update on the

recovery of wheelchair bound Brock Mealer

.  Some great news of his recovery came out earlier this week, to me via a

tweet from Camp Barwis

.  Rodriguez confirmed that on Saturday Mealer walker about 50 yards with aid of a couple crutches, and they've set a goal that Brock will lead them down the tunnel and into the stadium for the opener.
RR praised Cam Gordon once again.  He heaped some love on Troy Woolfolk, J.T. Floyd and Justin Turner (he's "gotten better").   "We're finding a little bit of depth there."
On Junior Hemingway and Je'Ron Stokes, RR advised that they might return today or in the next two practices.
Gardner is improving and "slowly getting there."
Adam Patterson was "playing well at end", but they are trying him at nose tackle.  "He'll play inside and outside."
A little drama returned to the press conference today as about an hour or so before the media got to Schembechler Hall, news broke that the NCAA was probing WVU.   Preface: The media's been warned not to ask any questions about the NCAA allegations (at Michigan of course).  Mike Rothstein of AnnArbor.com started to ask about the West Virginia probe and wasn't allowed to get the question out.  You can pick up the audio at 7:05 in.
In discussing the backs, RR noted that Stephen Hopkins "continues to impress" and "probably will not redshirt."
On when Molk will be cleared.  "He's running now.  He's taking part in some of the (no contact) drills."  RR expects him to be fully released this summer.
Here's the full audio of the presser:
Rodriguez Press Conference - 04-13
Play Now
|
Play in Popup
|
Download
.
On the brief glimpse of practice:
I'm basing this purely on the drills but Denard looks solid tossing the ball.   Ins, outs, slants, deep – anyway you want it.   Will be watching to see how he throws into coverage but I'm buying that RR's got a decision to make next season.
The kickers hid again inside the indoor facility – dude!
More of what I saw

last week

, but Gardner's arm just isn't on par with Forcier and Robinson right now.
Et cetera:
I spotted 1964 team captain Jim Conley watching practice today.  The 1965 Rose Bowl champ was taking in a few snaps and shared that he'll be playing in the Alumni game in the Big House on Saturday.  Conley's a man's man and it'll be great to see him in action this weekend.