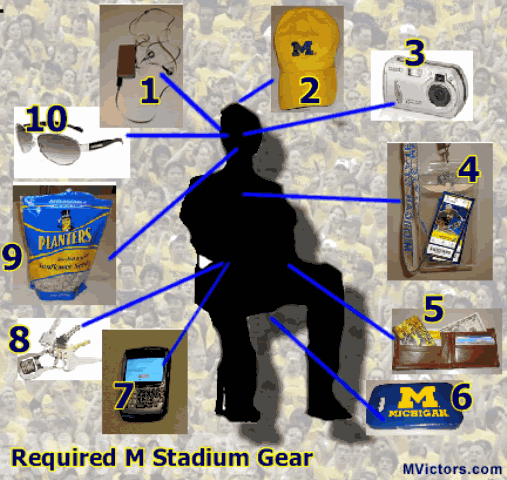 [Webmaster's note: Once again for 2011, re-examining the standard stadium gear for the upcoming season, with some tweaks.  "All In" Towel no longer required obvsly.]
Ah, it's that time of year. Many of you out there are no doubt running through your tailgating gear, grills, food, wares, etc., for the early start on Saturday.  It's going to be a long day and that's just before you get to the stadium.
Any fan knows there's some thought that goes into your in-stadium gear as well and this is a completely separate exercise.
So here you go:
1. AM/FM Radio. Forget the latest incarnation of the radio that sticks on your ear, they are unreliable.  Bring in a radio you trust to listen to the play-by-play from Brandy and Beckmann. You'll get injury reports, sideline observations, statistics and analysis of key plays that are under review (although Brandstatter always seems to think the replay will goes Michigan's way).   Probably most critical: you can block out the blabber from an idiot nearby who won't shut his Twizzler hole, as he gives his personal play-by-play and screams down to the coaches from row 87. 
2. M Lid. While not an absolute requirement, it certainly helps to keep that sun from beating down on you.  For those in the North end zone or east side of the field, could be critical.
3. Digital Camera. You never know who you're going to see at the game or what live action you might catch. 
4. Tickets & Lanyard. Obviously you'll need those tickets to get in but for the big games I always try to bring in a lanyard to hold the ducats. If nothing else, it makes for easy access to display the ticket on the way back into your section.   It also provides some chest coverage if you decide to peel.
5. Your Wallet. Where you keep your bread, Daddy-o. I don't care how many beers and brats your jammed in your greasy skull at the tailgate, you'll need at least a drink or two and something to eat at the game.
6. Seat Cushion. It serves so many purposes. First, it marks your spot in the tight M stadium rows. Next, it provides some comfort to your bony butt.  Finally, it actually gives you an extra inch of torso height above the guy in front of you—really.  Don't think that matters? Try it sometime – it does.
7. Phone/PDA/Blackberry. In case something crazy happens you'll need to call your boys. And the "other scores" communication at M stadium is lackluster at best, although hopes are high for the new scoreboard. You'll need your device to keep current on the big games of the day, and follow the latest tweets and Facebook blasts.  For you gambling degenerates this of course is a must.
8. Keys. While most the folks in my section have keyless entry to their luxury sleds, you still don't want to forget your keys. Keep them in your pocket.  And P.S. — It is no longer cool to shake your keys during a "key play".
9. Seeds. A personal preference of the but I always enjoy a few seeds to help cut the tension. 10. Shades. Similar reason as the hat. If you're in the North or East sides of the field they are mandatory. Wear them for no other reason than to hide your pickled bloodshot peepers.
Optional:  the handheld Fan Vision unit.  I haven't heard them promote the device this year, interested to see if they've added some features or views or improved the quality.