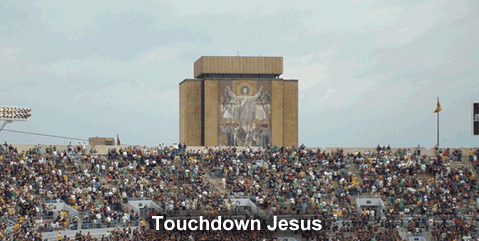 While there's still a shot a getting to six wins and preserving two great streaks, this season is turning into an exercise of focusing on themes and trends inside games rather than the end result. A loss a Notre Dame is always tough to take and we still don't know how good the Irish are, but I saw some good things out there Saturday.
The comeback effort turned into a Sisyphean task, as a few times the Wolverines were on the brink of scoring a critical touch only to have a brutal fumble or pick wipe it all away. This game was obviously lost on the turnovers, the worst occurred before the rain came down, but that can be fixed. This offense isn't quite ready to enough register points to overcome the kind of hole they put themselves in the first quarter, but certainly showed signs.
After last week I never thought I'd say this but Threet looked sharp, didn't he? I don't mean sharp as in 'much improved for a guy who'd be a third stringer on most teams', I mean sharp as you want your quarterback to be. I haven't seen the replay on that early screen to Minor that was dropped and picked up by the Irish- I assume that shouldn't have been thrown but otherwise, didn't he look solid? Threet threaded it in there on a few outside slants and handled the ball as best that can be expected in the brutal conditions. I'm not saying this is the answer, you still need someone that can take off for 7 yards, but I've got confidence this guy can get it done this season.
On McGuffie, you're seeing a guy that's just going to be a fixture in this offense and goes out there and busts ass. The 80-yr-old Irish fan next to me said, "Boy, we're going to have to watch that kid for the next three years." Believe it . Sitting up top we could see the freshman missed a few holes, even when he hit the second level, but who's complaining?
And the offensive line, the biggest question mark coming into this game – they protected well and create holes for McGuffie. There was the late drive where they took a few penalties and it was far from perfect, but overall pretty solid. Of course all this assumes that Notre Dame isn't a complete trainwreck of a team, which they still might very well be. We'll learn more next week when they travel to East Lansing.
Special teams? Major gaffs on the first two kick-off returns but what else? Warren dropped one punt (recovered) but otherwise handled things on a difficult day. Mesko was excellent on punts and ran the punt option to a T on three occasions, twice hitting nice punts on the run (a real run, actually considering hitting the hole), and once on his run to get that first down. One for one on field goals and a adequate kick-offs given the conditions. They also got a hand on a Notre Dame punt.
More takes:
* The offense still can't execute a pass over the middle, I know RR doesn't use a traditional tight end but can't they drag the slot over the middle and make a play?
* The defense was put in some bad situations but as has been said all year, has to be the unit that wins games for this team. They didn't do enough, and Trent was getting worked early which is painful to see. I'm sure Shafer relies on having Warren and Trent cover the outside receiver one-on-one and having issues with one or the other is a concern. That said, Trent made a great cover and turn on a ball later in the game (which he picked), so I'm not overly concerned. And Warren was called for a couple pass interference plays which looked ridiculous, certainly the second in the end-zone – it looked like he tapped the guy's back before jumping to go for the ball. I saw some ND fans shaking their heads after that one.
* The linebackers didn't seem to be a factor, I'm looking forward to mgoblog's defense UFR.
* Notre Dame had trouble getting the right players on the field, at times with 12 or 10. Give credit to Rodriguez and company, this hasn't been an issue all year. There were times last year (I'm serious) where Michigan had 10 guys on a punt or punt return teams on multiple occasions in games. And it happened on defense all the time. Also give credit to the discipline of this team. Have they jumped offsides on offense or defense more than a couple times all season? For a team playing many freshman and young guys, they aren't taking a lot of penalties. Last week they were in the top 30 in the NCAA in penalties and penalty yardage. The personal fouls this week may throw that off, but give them credit.
From section 122:
* The ND fans are very proud of their renovation, which was completed over 10 years ago. It's nice, but I'm wondering if they have any regrets about not putting in any boxes? I'm sure Irish fans would spout back, 'We don't want 'em in our stadium', but really? Don't tell me they're not concerned about revenue and want to preserve the pure atmosphere- there's a bar in the parking lot outside the stadium. And a big screen wouldn't hurt either, I would have look to have seen a couple of those plays again. Finally, while the seats a spacious unlike somewhere else, the bench seats are made of wood! I know, Irish fans would say, 'This is a righteous profession, JC was a carpenter':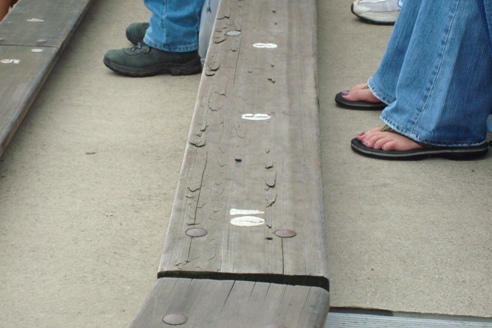 * On the pass play were Trent was torched, the 80 yr old Irish fan next to me said, "I could have caught that one." The pain, it stings!
* Once again this year, Notre Dame dropped in Red Dawn paratroopers onto the field before the game. I captured a video, apologies for the Beavis/Butthead quality commentary throughout: