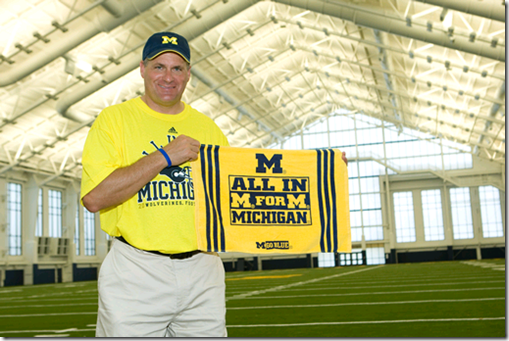 Photo credit: U-M Photo Services
Put away the 'Key Play' keys and pick up your maize 'All in for Michigan' towel.  The details are below, and you've got to love that proceeds for the $5 towels are going to Mott Children's Hospital where they are working on a football-themed play area for the kids.   Perfect.
From the State Street press release:
The University of Michigan Football Program and the University of Michigan C.S. Mott Children's Hospital and Women's Hospital are raising awareness and funds for the "Champions for Children" campaign to build a new children's and women's hospital at the University of Michigan.

Maize towels displaying this year's team theme "ALL IN FOR MICHIGAN," go on sale starting Sunday, Aug. 23, at the Michigan Football Program's annual Fan Day. Fans can get autographs and meet the 2009 Wolverine team from 1-3 p.m. Sunday at the Al Glick Field House, Oosterbaan Field House and the adjacent practice field behind Schembechler Hall.

Towels purchased at Fan Day are $5. Towels will be sold for $6.99 after Fan Day at the M Go Blue Shop, The M-Den, Moe Sport Shops, Dunham's Sporting Goods, Dicks Sporting Goods, area Meijer stores, and The Pizza House on U-M's campus. A portion of the proceeds from each towel will benefit the campaign to build a new University of Michigan C.S. Mott Children's Hospital and Women's Hospital. 

The Michigan football program is earmarking funds raised through the towel program to help build a football-themed interactive play area at the new hospital.
Naturally, a nitpick.  While the range on the shade of navy blue on U-M gear is fairly tight, you do get quite a wide spectrum of maize.  This photo of Rodriguez is a great example.  The towel is closer to the gold, kind of older school, his shirt looks like a highlighter and the hat is somewhere in between.   Can we get a standard and stick with it?