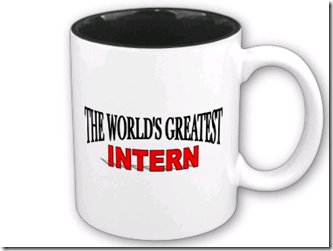 So as I mentioned earlier the crux of the trouble with the NCAA comes down to how they decide to treat the 'quality control' personnel who allegedly oversaw certain drills during the offseason.  This is mentioned in the first paragraph on the Notice of Allegations (NOA) and lists these folks as: Adam Braithwaite, Dan Hott, Josh Ison, Bob McClain, Eric Smith and Bryan Wright.
In that same paragraph, the NOA refers to these guys as "quality control staff members (noncoaching sport-specific staff members who were not counted as countable coaches).."  But later the report refers to Herron as a "graduate assistant football coach".
Beyond the oversight concerns, it goes further to alleged that Alex Herron essentially lied to the NCAA investigators.  From page 7 of the NOA:
It is alleged that Alex Herron, graduate assistant football coach, failed to deport himself in accordance with the generally recognized high standards of honesty and sportsmanship normally associated with the conduct and administration of intercollegiate athletics for providing false and misleading information…
It goes on to state that Herron denied his presence at certain summer workouts/7-on-7 drills but the NCAA states "in fact" he was indeed "sometimes" present at these activities.
The NCAA also asked for for U-M to provide a bunch of materials and responses to the allegations starting with sections of various media guides.   For instance, they ask for pages 97-121 of the 2009 spring football media guide which is the 'Football Staff' section.  (By the way, why they are asking for this I'm not sure, because they clearly already have it, otherwise how would they know the specific page numbers?).  Anyway, I assume what they want to know is listed starting on page 112 which is the "Graduate Assistant and Quality Control" staff section. 
In the 2009 Spring Media guide, Herron title is "Offensive Graduate Assistant Coach", Braithwaite and Hott titles are "Defensive Quality Control", Ison "Special Teams Quality Control", Smith and Wright are "Offensive Quality Control".
We know that Braithwaite was recently promoted as safeties coach but he's not the only one who has a new title for 2010.  Today on mgoblue.com under 'Coaches', Herron, Wright and Ison are defined as "Staff Interns":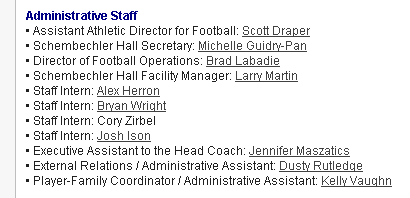 So…I'll take from this that Michigan's strategy will be to acknowledge that these guys were present during the summer sessions, but argue that in their role on the team they were a far cry from being actual coaches. 
I'm not sure if RR hiring Braithwaite will help or hurt matters.   Perhaps Michigan will argue that they are demonstrating the separation between QC and real staff with the Braithwaite "hire".   The NCAA might counter by asking someone to explain where Braithwaite got the experience to be named to a big time football coaching staff, if he wasn't really involved in coaching under Rodriguez.
Last August I asked former Michigan hockey player and assistant coach Dave Shand about the allegations and from his point of view it's really not debatable:
"I saw the statements about the guys that were present, the Quality Control guys.  They're coaches. How can you be a quality control guy and not know anything about the game? The differentiation is silly.  It's really not a gray area."
The other thing Shand warned against is trying to cover up the truth and being less than truthful, adding "the cover-up is always worse than the crime."  Thankfully I don't see any cover-up here but Herron's alleged misrepresentation certainly doesn't help. 
So what does all this mean?  I have no idea.  The letter attached to the Notice of Allegations states that "all of the alleged violations set forth in the document attached to this letter are considered to be potential major violations of NCAA legislation..", and I don't know if that's standard language when submitted NOAs or whether that is saying that the NCAA views the allegations as major violations until the school makes the case otherwise.
I think Michigan will have a tough time arguing that the QC guys are a far reach from the "real" coaching staff, but perhaps they can argue that point far enough along to fall into the realm of secondary violations.  If they can't, get ready for some of this: