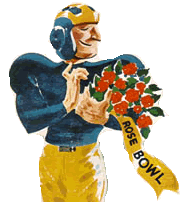 Here's my take on this mess. I feel bad for the Michigan players and coaches and it's not right that they don't have a clear shot at the national title. I do think there is some credence to have a representative from another conference play in the title game. While there are some points of reference between the SEC and the Big Ten, and even a common opponent between Florida and Michigan [Vanderbilt], how do you truly know how these teams stack up conference to conference. Was it really such a great feat for Florida to make it through the SEC with 1 loss? And for Michigan, the Big Ten is clearly very top heavy and Notre Dame just isn't very good. Ohio State definitely deserved to win that game in Columbus.
I can see people slotting Florida above Michigan on the whole, but I guess what bugs me is that is the switch happened two weeks after Michigan stopped playing and Florida really didn't look good in either game in that timeframe. I'm convinced it was a lethal combination of:
– Out of sight, out of mind
– Conference championship argument
– Don't want to see rematch
– Rematch is not fair to Ohio State.
I've seen Florida enough, I've seen them struggle. I think Michigan is better and should have been #2, but I understand.