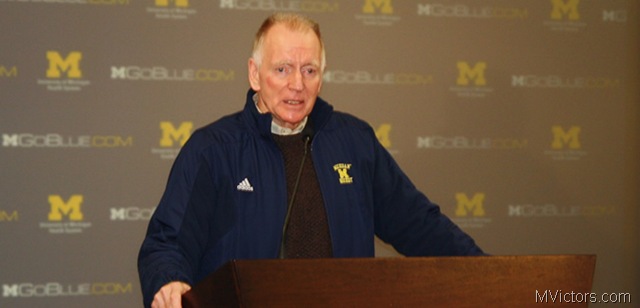 Only thing better would be if they also confirmed Red was going to skate in the Red Wings/Maple Leafs alumni game for the 2013 NHL Winter Classic.  Via Media Relations:
Red Berenson Agrees to Contract Extension Through 2015-16 Season

ANN ARBOR, Mich. – The University of Michigan and ice hockey head coach Red Berenson have agreed to a three-year contract extension, Athletic Director Dave Brandon announced on Monday (July 16).  Berenson is in the final season of his current contract and the extension will keep him at Michigan through the 2015-16 campaign.

"I'm pleased that the administration and the program are looking ahead," said Berenson.  "I'm excited about the opportunity to remain at Michigan, especially with the current Yost renovations, the move to the Big Ten and for our incoming recruits. We have a great staff here and I'm looking forward to the next few years at Michigan."

Berenson has led the Michigan ice hockey program since 1984, winning two national titles (1996, 1998) along the way. He has guided the Wolverines to a record 22 consecutive NCAA Tournament appearances and has reached the Frozen Four on 11 occasions. Berenson is a two-time Central Collegiate Hockey Association (CCHA) Coach of the Year (1994, 2008) and earned National Coach of the Year honors in 2008.

"Red is an icon in the sport and the one of the most recognizable names in college hockey," said Dave Brandon, the Donald R. Shepherd Director of Athletics. "We are glad that he agreed to continue leading our hockey program for the foreseeable future. Red's dedication to Michigan and our program is a major reason for our success. I'm excited that he will continue molding the lives of the young men who skate for Michigan."

Berenson has earned a 752-352-77 record in 28 years at the helm, along with 11 CCHA regular season titles and nine CCHA tournament crowns.  He currently ranks fifth on the NCAA hockey all-time wins list and collected his 750th victory with a 3-1 victory over Notre Dame in the CCHA Quarterfinals on March 10, 2012.

Berenson played three seasons at Michigan from 1960 to 1962, where he was a two-time All-American (1961, 1962) and served one year as team captain (1962). He holds a bachelor's degree (1962) and a master's degree in business administration (1966) from U-M.

Following his collegiate career, Berenson played 17 seasons in the National Hockey League from 1962 to 1978, appearing in 987 games with the Montreal Canadiens, New York Rangers, St. Louis Blues and Detroit Red Wings.  He retired in 1978 and served in various NHL coaching capacities before returning to Ann Arbor, winning the Jack Adams Award (NHL Coach of the Year) with St. Louis in 1981.

Berenson is a native of Regina, Saskatchewan.  He and his wife, Joy, have four adult children and eight grandchildren.