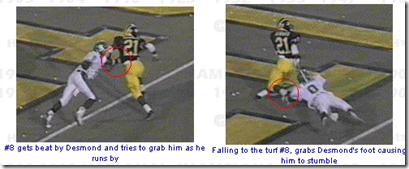 MSU cheating via umgoblue.com 
A comment on my brief Air Force Done post from Buckeye El Caballo de Sangre who's been meaning to submit something like this to mgoblog's mailbag:
On the subject of "questionable calls"…it's something that's bothered me at least since the outrage over the Crable-on-Troy Smith personal foul call a few years back (I'm a Buckeye fan, but one who tries to hate y'all in a congenial, intelligent way, if that makes sense), and bothered me more with the over-and-over-and-OVER nature of the complaining about calls v. ND in hockey this year, plus the Michigan-specific penalties Brian recommended/demanded (is such a theoretical specialized suspension even allowed by the rules?) for Sparty's hooligans (along with the implicit endorsement of attempted assault well after the fact by the injured player's father): Do you guys think that this is bad luck, or an anti-Wolverine conspiracy?

Note that the rightness or wrongness of the calls is immaterial to the question; I don't have a dog in that fight anyhow. They could all be good calls that Michigan partisans hate simply because they went against Michigan, or all be bad calls that Michigan fans are justifiably enraged about. In either case, the question remains – which is it: bad luck or conspiracy? Because, really, it has to be one or the other, and the tone of a lot of what a lot of you Michigan guys have to say about it strongly implies the latter. But I don't know that that's true, so I'm asking. Thanks.
I'll take a stab at that.
It's hard to discuss this without getting into specific examples and rightness or wrongness. I don't think any sane person thinks there's a conspiracy or bias afoot (short of the Spartan Bob clock incident).   It'd be painful if years from now someone proves that the winged helmet draws disproportionate attention of the refs.
It's true that Michigan teams have got the bad end of some calls at critical junctures over the years. ESPN.com page 2 put the 1979 Charles White "touchdown" on its top 10 worst calls of all time in any sport. And MSU fans are sick of the griping about Desmond Howard no call in the end zone that persists today.
The griping seems to come up after every bad loss.   Part of me wishes it would stop but it's also part of being a fan.   Understandably we don't talk about or even remember the equally great breaks Michigan has gotten over the years, a few that come to mind:
Webber probably traveled before calling the extra time-out in 1993 NCAA finals. Of course in retrospect it would have been better for Michigan if they would have made that call.   Maybe there is a conspiracy here.
There's some bad call(s) in the Desmond game and in the Spartan Bob game that any MSU can rattle off for you if you buy him a beer at Revere's.   I mention this because for every game where Michigan was wronged, I'm sure the other side has its laundry list of incidents.
And a couple more that occurred on the cusp of Michigan's greatest wins in the last 20 years:
Many consider the foul that sent Rumeal Robinson to the line in the 1989 finals a travesty, or at least "one of the most controversial fouls in Final Four history".
You could argue that Washington State should have been given time for one more play in the 1998 Rose Bowl (although, haha, there was a terrible missed call that set-up that play).
The reputation for griping about bad calls is proliferated by many factors:
Michigan hoops/football/hockey frequent appearances on big stages over the past few decades.
A large & vocal fan base. Exhibit A is the crazy number of sites out there like this one.   mgoblog is one of (if not the) most read college football sites.
The volume of MSM writers with Michigan ties.
A desire by fans to explain a number of heartbreaking losses over the years particularly in football.
Yes, more than our share of high profile tough calls.
So, is there a there a anti-Wolverine conspiracy?  That's silly.  Does Michigan seem to get jobbed more often than not?  Through the eyes of the millions of M fans, yep.   Is every State, Irish or Buckeye fan reading this rattling off a list in their heads of times the Wolverines benefitted from a questionable call?  Almost certainly.