In 1924 WWJ's Ty Tyson and Doc Holland called the Michigan-Wisconsin game at Ferry Field and delivered what is believed to be the first live radio broadcast from a football stadium. Since that day nine decades ago, for many of y9u radio remains the preferred method to consume Michigan football each Saturday – especially for road games :)
You probably know that this season longtime U-M color analyst Jim Brandstatter shifts over one chair, replacing Frank Beckmann as the play-by-play man. Next to him will be Brandy's former teammate and pal, longtime NFL broadcaster & Hall of Famer Dan Dierdorf.
Before the season I got to chat with these guys for a piece for the game program–so look for that each Saturday.
For you – here's the entire transcript of my chat with Dan Dierdorf. [P.S. Between us girls Dan D. doesn't know me from Adam yet was off-the-charts kind and accommodating. File under FWIW.]
—————————————————————————————-
MVictors: The great Bob Ufer was unabashedly biased when he called Michigan games, and you certainly knew who Brandstatter and Beckmann were rooting for. Will it be a tough transition knowing you'll clearly have a rooting interest with Michigan?
Dan Dierdorf: It's going to be tough because for 30 years I've only ever done it one way, and that's completely unbiased and neutral. You have to completely straddle that line. You have one foot in one team's camp, one foot in the other team's camp and you've got to really be neutral. I mean that is one of the things that not only is expected of you, it's demanded of you as a network analyst. If the audience thinks you have a bias, which of course the two whole markets think you do.
The reality is you just can't. I never cared about anything when I was doing network television other than hoping that the game was tied 28-28 at the start of the fourth quarter. You just wanted a good game. It's going to take me awhile to show that I'm leaning towards the maize & blue, which of course I will be. That's going to be a luxury, I think I'm going to enjoy it.
MVictors: So that's one challenge. Does doing radio in particular, bring any unique challenges to what you were used to over the last several years doing TV?
Dan Dierdorf: Well I've done radio games before. When I first broke into the business, I started doing radio. I did the University of Missouri for an entire season back in 1984. I did about 10 or so games with the CBS Radio Network, working with guys like Lindsey Nelson and Ray Scott and Dick Stockton and people like that. I cut my teeth on radio.
There is a freedom in doing radio that doesn't exist in television. When you do a game on television, you are a slave to the picture. You've got to service the viewer at home by referencing what he can see on his television screen.
To do anything outside of that, you're really doing a disservice to the viewer, because you're talking about something they can't see. Everything you do in television, it orbits around the picture that's on the screen.
When you're doing radio, you can be more conversational. You can take longer to tell a story. You can paint the picture yourself. There's a freedom in doing radio that doesn't exist in doing television, and I'm looking forward to that. That will be fun.
MVictors: You've been so busy since leaving Michigan and you've had such a decorated career. Had you ever, maybe early in your career, considered coming back to Michigan in one capacity or another?
Dan Dierdorf: I've always lamented the fact that I haven't gotten to spend much time in Ann Arbor on a football weekend. Because I was either playing in the NFL, or I was working in the NFL. The NFL season started before college football, and didn't end until after college football. I just rarely ever got to a game in Ann Arbor, because I was working. I was always in Boston or New York or Miami or Oakland or Denver. It was just the nature of my life.
I always dreamed about when I retired, going back and just tailgating with my teammates and hanging out. Actually going to a game and sitting in the stands. Or sitting upstairs in the press box and whatever. That's the way I saw it. I never saw myself coming back to Ann Arbor as a part of the radio team. I never imagined that.
MVictors: At what point after that did you see this job really as something you'd consider? Did it come down to knowing that you might be sitting next to Jim Brandstatter?
Dan Dierdorf: Well, yeah. How could my comfort level be any higher? Dave Brandon and I were teammates. Jim Brandstatter and I were teammates. I mean if I'm not comfortable around those two guys…! [laughs] Jim Brandstatter and I played the same position. I have known Jim Brandstatter my entire adult life. We stay in contact, we're friends. I've been friends with Jim Brandstatter since I met him in 1968. That was a long time ago.
How many people get an opportunity to do what I'm getting to do? I retired from network television. I thought I had completely retired. I had no intention of going back to work. Quite frankly, I don't really view this as work. They are going to pay me but what a scam. I probably would have done it for nothing.
MVictors: Is there anything about Jim Brandstatter that maybe fans wouldn't know about him, but maybe should?
Dan Dierdorf: That's a great question. I think they sense this, but I can offer confirmation that Jim is absolutely one of the most decent, honest human beings I've ever known in my entire life. They don't need me to tell them that he is Michigan through-and-through—and what a luxury it is to have a guy like that associated with the program.
He is a walking library of the University of Michigan. Not just its football program, but its athletic programs across the board. Every university should have someone who has been there, done that, seen everything, and experienced it the way Jim Brandstatter has.
A lot of people are really successful in this business, but Jim Brandstatter is an even better person than he is a broadcaster. He's also really funny. He also makes me feel good about myself, because he weighs more than I do. I actually get to play the thin man when we're together. [laughs]
The only thing I need to do before the season starts—and I'll pay for this myself. I'm going to have a structural engineer take a look at the broadcast booth. I just want to make sure there are enough steel beams underneath that thing when we both get in there together [laughs]
I don't expect the university to pay for that; I'm willing to do it myself. I would like some confirmation that there's a big enough I-beam underneath that booth that's going to hold both of us in there. [laughs]
MVictors: Have you got to know Jon Jansen and Doug Karsch [the new Tailgate Show crew] at all?
Dan Dierdorf: I don't know Doug. My house [in Petoskey, MI] is about a mile and a quarter from Jon Jansen's house. Seriously, Jon and I live maybe live a mile and a quarter apart all summer long in Northern Michigan. That's his year-round residence up there. I'm just there from May to October. Yeah, I see Jon with some regularity.
MVictors: It sounds like you're going to try to get a chance to hang out with some of your old buddies and tailgate when the opportunity permits?
Dan Dierdorf: Oh yeah. You know I see them during the course of the year, at different things. Yes, oh absolutely. I just have to be up in the booth about an hour, hour-and-a-half before the game. Before that, you'll find me over on the parking lot by Crisler, where Dick Caldarazzo his tailgate. I've got the promise of a golf cart so I can go over there and tailgate for a while before I have to go to work.
MVictors: Are there any game day traditions or rituals that you hold to each week? Anything that you do as part of habit, before you broadcast?
Dan Dierdorf: Not really. I always get up early the day of a game and just prepare. I'm reading every newspaper article I can read. I just like to feel that I'm really prepared when the game starts.
I'm not one of those guys that refers to a lot of notes during the game. I figure if I don't know it, it can't be all that important. For me, I'm going to have to … I love the game. I love the traditions of the game. Whether that's being at Pittsburgh when three minutes before kick-off they're waving the terrible towels. Or it's in Baltimore, where they play the theme from Gladiator and the stadium goes nuts.
That period of time that probably starts about 10 minutes before kick-off, right up to kick-off, I've never not savored every moment of that when I'm at a football game. My problem is going to be at least for the first couple of games, not getting totally swept away by the emotion that's going to be coursing through my veins at Michigan Stadium.
I'm going to have to fasten the seatbelt and try to weather that storm, because it's going to be very emotional for me. It's going to be tough, because I'm going to realize how much I've missed this and how lucky I am to get a chance to go home again.
MVictors: I believe on CBS you wore a couple of Hall of Fame rings during your broadcast commonly, is that right?
Dan Dierdorf: I wear my college football Hall of Fame ring, and I wear my pro football Hall of Fame ring.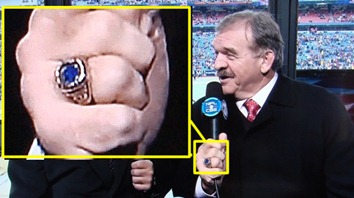 MVictors: Are you going to slap on a Michigan ring during your broadcast? Or is that to be determined?
Dan Dierdorf: Well my college football Hall of Fame ring says Michigan on it. It's got my school on the college football Hall of Fame ring. Will I wear my M ring? Probably not. But that's the nice thing about it, I always had to wear a coat and tie. I always had to wear a coat and tie, and I always had to wear a CBS blazer. Now I get to just wear Michigan stuff, and I don't have to wear a tie. What a wonderful thing.
I can view the game in a Michigan sweatshirt and a Michigan baseball hat. I'll channel my inner Bo Schembechler.
I'm telling you. I'm like a trained monkey; I won't know how to talk without wearing a tie. That might be a struggle for me. I always wonder, "Why am I the only guy? Why am I the only guy wearing a coat and tie? Because it's me and the guy next to me, my play-by-play guy. We're the only two people in the entire stadium wearing coats and ties."
MVictors: In the industry you have a lot of friends at Michigan. You both do. Might we expect a few visitors up in the radio booth during the year?
Dan Dierdorf: I would hope so. Yeah. Who knows who might stop by. I know I've extended an invite or two to some of the guys. Bob Seger has a home up by me in Northern Michigan. I know I have reached out to Bob, said "Hey, anytime you want to come to a game, feel free to stop by." We'll put him on the air for a while. He's got a little bit of a following in Michigan.
MVictors: How's Bob as a person?
Dan Dierdorf: What a great guy. Just a wonderful guy. I'm not going to lie, I'm semi-starstruck around him. I've just been a fan of his for so long. He's the most down to earth guy. If you didn't know what Bob Seger looked like, you wouldn't realize you're in the presence of such a star by the way he acts. You'd think this is a guy that just drove up in a truck and wanted to hang out and talk for a while. Great guy.
MVictors: So if he were here, what would Bo tell you and Brandstatter if he saw you walking up to the booth to call your first game?
Dan Dierdorf: The first thing he would do would be to tell us both that we were both that we were overweight and out of shape and report to him after the game to run some laps.
Jim and I would both know how immensely proud he would be of the two of us for doing that. As silly as this sounds, one of the reason I'm doing this is I know he would be happy. I know he would be thrilled at this. He would be over the moon and that brings a smile to my face.
MVictors: Anything you're trying to get through to them through this broadcast this year? It has been a challenging stretch for fans and I know folks are really excited to have you here.
Dan Dierdorf: Let me tell you something. One of the things the fans are going to figure out really quickly is I bleed Michigan football and I always have. When things aren't going well, I have a hard time containing it. My crews at ABC and CBS over the years have had to suffer with me on Saturday afternoons when things didn't go well. Everybody knew how much it mattered to me so they would get after me, whether it was find me an Appalachian State T-shirt. Of all times, we lost of Minnesota one time when we're doing an Indianapolis Colts game. Honest to God within 20 minutes of the game being over, into our meeting room walked Tony Dungy, the coach of the Colts who of course is a Minnesota grad. I have to get down on one knee and kiss his ring.
Fans are going to figure out that it really means a lot to me. What I want, what I hope happens is that I get to watch Michigan football turn the corner and head back up to where it needs to be. That's important to me and I plan on being there to watch it happen.
MVictors: Outstanding. Thank you so much for the time.
Dan Dierdorf: You're welcome. Anytime, thanks.
——————————————————————————
I'll post the full interview with Jim Brandstatter in the coming days..
Follow MVictors on Twitter