Congrats to the Coach Beilein and the hoops squad as they got off the schneid by taking down Northwestern 78-68 for their first Big Ten win. No word whether Coach Rodriguez did the mid-court shot at halftime. Apparently Beilein's inspirational highlight DVD helped.
Coach Beielin asked team manager and local guy Pete Burak to suit up for the game, but he didn't play. Pretty cool.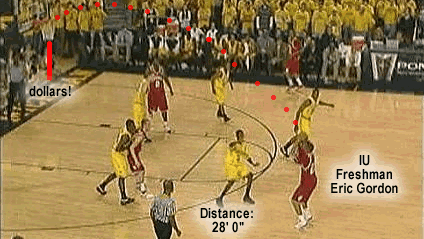 Seriously, what are you supposed to do about that?
And in case the Indiana blow-out wasn't out of your mind yet, the IU Blog Inside the Hall runs a little film session on Eric Gordon demonstrating the super frosh's ridiculous range. The set? You bet: Crisler arena.