Any thoughts of Lloyd Carr, Hart, Henne and Long getting to tee off on the ACC's #4 team are gone. Nope, they'll get Urban Meyer and defending national champion Florida. An interesting match-up for sure, as Florida edged out Michigan for the second BCS championship spot last year and many (including Carr) were none too happy with the comments made by Meyer as he campaigned for his Gators. Water under the bridge maybe, but it'll make for an interesting subplot.
Required for the game? Your Urban Meyer Wiener gear while they last: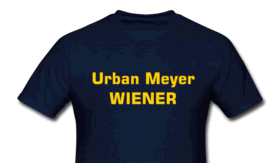 Subplots:
1. As mentioned above, Hart, Henne, and Long and especially Carr's last game.
2. Meyer vs. Carr after the bitterness of last year.
3. Is Urban Meyer a candidate for the coaching job? He didn't exactly slam the door shut in recent comments.
4. Will a signficant number of Michigan fans go to this game? [Latest Ticket Prices here]
5. Will Michigan have named a coach by then? Will he be at the game?