It's 21-14 right now. Michigan just scored on a nice toss from Threet. Memo to opposing defenses: we have enough trouble moving the ball just in general—-blitzing this offense is foolish. Thanks for that one d coordinator from Purdue.
So let's get this off my chest. If we're going to have instant replay they've got to use it, especially in the right spots like on TOUCHDOWNS. On Purdue's first score as Purdue running back Kory Sheets stretched toward the end zone his knee hit the ground. The good angle on TV was blocked by the ref's gigantic hat, rivaling the ref's hat at the 2004 Rose Bowl: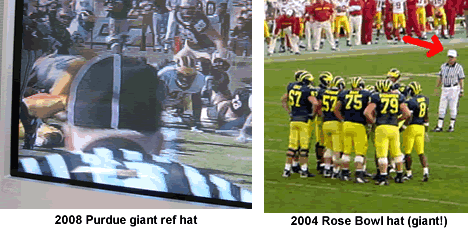 Dudes, if it's close you have to stop and look at it. I don't know whether they would have found anything but they have to look at it! Come on. I don't put this on Rodriguez, but he could have asked for the replay too, but that's just there when the guys in the booth aren't doing their job.
UPDATE: Sheets just scored again on a nice play, absolutely a touchdown when watching on the TV. And what do they do? They review it! Just to be sure. That's the right thing to do…what happened on the first one??? Losers.