Momentum seems to be building for another former M player (or 2) to have their jersey number retired, something that hasn't happened since 1994 when we hung up President Ford's #48.   As Mike Rosenberg discussed recently, Coach Carr brought it up and supports the idea:
"Desmond Howard and Charles Woodson, as winners of the Heisman Trophy, I think they are both deserving of having those jerseys retired," Carr said Wednesday. "I believe that … I think it's an issue that is very important to Michigan football."
I'm not big on retiring jerseys but if the tradition is going to continue, I'd love to see Desmond and Woodson honored.  And while I don't think there is racist intent, it's still a bit glaring after all these years (and Heismans) that no African American is represented among those retired.
So this brings me to this, and thanks to my man and local writer James Dickson (see MVictors guest posts) for allowing me to post this beauty.  A while ago JD dug up this October 1997 report from Amy Whitesall of Ann Arbor News, announcing that #21 would be hung up for good: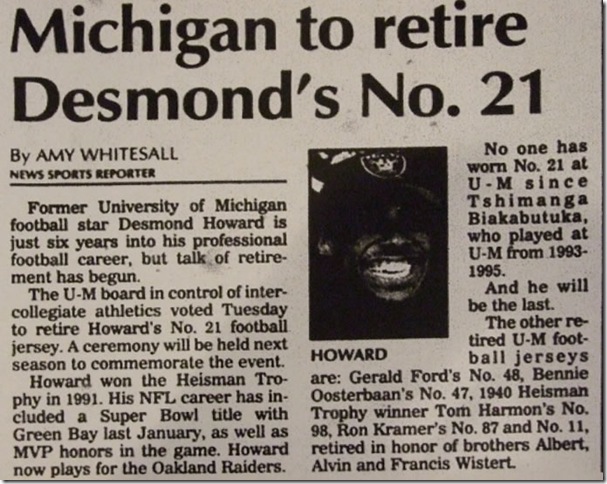 Except of course none of that ever happened.
So what's deal?  The report was pretty specific (U-M board voted Tuesday…ceremony next season…) so you've got to believe something was seriously in the works.   James was working to track down the story but hasn't got a clear answer.  I suggested it be posted here in case anyone knew the deal, and JD agreed. 
Coincidentally when the report came out, #2 was doing things like this on his way to Michigan's third Heisman.
We've solved a few mysteries here on these pages, how about this one?  What happened?