[Ed. 9/3 An important note: I received an advance/uncorrected copy of the book this summer and wrote this review in early July and held onto it, waiting for clearance to pull the trigger. In the time since there have been several excerpts, interviews and reviews out there. I left my early July thoughts basically unchanged. Fourth And Long hits stores today. And P.S. I have questions from July (and now answers) into Bacon on the book – they are now posted here.]
If you read this site you probably won't need to be nudged to pick up pretty much any book John U. Bacon writes on sports. You won't be disappointed with his latest. In 4&L Bacon walks you through 2012 Big Ten football season looking primarily though the travails of four teams: Penn State, Ohio State, Michigan and Northwestern. This passage from early on kind of sets the stage Bacon's work and why he chose the Big Ten as his canvas:
Given the Big Ten's unique place in the pantheon of college football–the exemplar that has combined academic power, athletic prowess, and commercial popularity, with a minimum of miscues before 2010–the conference, its twelve-hundred-plus football players, and 17.5 million fans aren't merely canaries in the coal mine. They're the coal miners.
Bacon defines the soul of college football from the inside (via his access to coaches and players) and out by visiting the tailgate parties, the bars and through his own experiences as a lifelong Michigan fan. He cuts right into the best storylines from last season which served as a backdrop to define & celebrate college football fandom along with addressing the looming threats–the mega team & conference money grabs–to its future.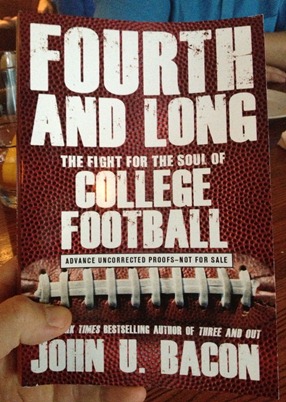 Near the end of the book I caught myself looking back at what I remembered from the 2012 B1G season—it didn't seem very special and granted, that's probably because I was viewing it through a maize colored lens duct-taped to Denard's elbow. But as you realize turning the pages it was very special season in the Big Ten. When you get in close enough really every season in this league has special storylines for fans, coaches and especially the players and that's one of the points made in the book. This is a special sport made up a uniquely talented players, coaches and wildly passionate fans—thus the concern if it's on the brink as Bacon asserts.
But there's one story that makes the book and that's Bacon's account, driven from his full access to the team, of what went on in Happy Valley State and coach Bill O'Brien. It's so good that my gut feeling is Bacs and his publisher had a tough decision to make at some point in this process: He could continue down the path of weaving the seasons of the four teams together or deliver a book solely on what was going on at Penn State. And, by the way, this book isn't about recounting the Sandusky mess. Bacon describes how the squad rallied in the aftermath of the horrific scandal and scratched and clawed their way out beneath the hammer of the NCAA penalties and overall internal fumbilitis. The PSU story alone could be a film or documentary—I got seriously choked up near the end of the book when Bacon describes the aftermath of when a key player went down with a potentially career-ending injury.
It didn't take long to start rooting for Penn State and by the end you fall hard for these guys. While Lions fans know what happened last year, and maybe even a few of the off-the-field events, they will snap up this book. The last person Bacs thanks in the acknowledgments is O'Brien, basically saying he could not have pulled this off without him. This is an absolute must read for Penn State fans and fans who revel in the history and culture that surrounds this sport we love.
But it's not just about Penn State of course and there's much in there for Northwestern, Michigan and Ohio State fans, and even a beautifully written history of Michigan State and a tribute to former president John Hannah.
Winners?
Without a doubt Penn State Coach Bill O'Brien and a handful of the leaders on the Lions senior roster that held the team together led by LB Mauti.
Another winner, surprisingly, is Urban Meyer, who you get to know much better in this book and can't help respect a lot about the man and what happened last season. I know you just threw up in your mouth.
Not surprisingly Northwestern's Pat Fitzgerald comes off like a great cat (no pun) who has players, like O'Brien, who seem like they'd take a bullet for him.
The villains:
Dave Brandon. The AD (who unfortunately didn't speak to Bacon for the book—more on that later) is singled out for representing the money grab culture of college athletics based on his moves at U-M. Some of the criticism levied toward the AD comes from former U-M president James Duderstadt who told Bacs: "I'll be generous and say, I don't think Dave Brandon 'gets it'—but he's not stopping to ask me or anyone else. I'm not sure where he gets his feedback, or if he gets any at all. It's full speed ahead." Dude also offers the harsh theory that it's Brandon's ego driving the strategy down at #1000SSS: "Brandon always says he's 'building the brand'—but of what? Dave Brandon. That's the brand he's building." There are a few more folks taking shots, including a few via anonymous athletic department staffers and from former AD Bill Martin.
PSU athletic director Dave Joyner. Joyner takes a severe beating based on a few interactions with the team. Overall he's is casted as the fumbo (see Bill Martin during the coaching search as described in Three and Out) and all-in-all, a Grade A turd. While this is far from the most scathing criticism, I chuckled when Bacon revealed that during the PSU coaching search Joyner's office lost the FedEx package (that they signed for) containing Bill O'Brien's resume.
Michigan fans should note that there were a few notable cases of redemption from Bacon's Three and Out:
Bill Martin, who came off like a complete fumbo for his role in the Rich Rod coaching search in 3&O, came out as a winner this time. Looking back, Martin is lauded as someone who clearly 'gets it' and he offered his perspective on the state of college athletics.
And while Michigan fans may cringe, another redemption case is the Boren family. No, Bacon didn't exonerate turncoat Justin Boren but..his brother Zach manned up and talked to Bacon for the current book (certainly knowing how his brother was depicted in 3&O). He comes off like a great kid and an overall bad ass on Urban Meyer's squad. He repped the Borens very well and I'm guessing his old man OK'd the whole thing. [Ed. Not really – Bacon explains here.]
So what would I change? As noted above Brandon takes a beating but he didn't/wouldn't talk to Bacon for the book. Like Lloyd Carr who didn't participate in Three and Out, it sure would have been interesting to have Brandon address some of these tough questions and challenges head on. Duderstadt's suggestion that Brandon is doing all of this to boost his ego is pretty damn harsh–and worthy of a response from Brandon. Same goes for Joyner. Instead we're left taking quotes here and there from Economic Club speeches and from 60 Minutes [and as aside I'm guessing Brady still hasn't seen the 60 Minutes thing haha]. Suggestion: Anyone up for a $300/ticket debate on the state of Michigan athletics between Bacon and Brandon benefitting Mott Children's Hospital? You know, maybe light hors d'oeuvres and cocktails? Anyone?
Getting to know some of the Penn State players up close, given all that was happening around them, was fascinating (similar to the chapter in 3&O where Bacs spent the day with Denard). I'd like to have known a few of the Northwestern, Michigan and Ohio State players a little better, but for the teams that provided him access (Michigan didn't) there's only one Bacon and his time was wisely served investing in the Penn State story.
Overall like I said, I don't think I'm swaying many readers of this site to buy the book. But for lurkers and fans of Big Ten football—go pick it up, it's a great read and I look forward to your thoughts.
Related:
Bacon Responds to Questioning – Questions and Answers you should read on Fourth and Long, posted Sept 3.
Bacon Saves your Soul (WTKA audio) – discussing the book with Larry Lage on WTKA.
Follow MVictors on Twitter