One of my favorite off-season events is upon us – the 5th Annual Swing to Cure Diabetes hosted by former Michigan QB/DB Rich Hewlett is coming up May 20th. Here's Hewlett talking about the event and much more with Sam and Ira this week:
Rich Hewlett - Swing to Cure Diabetes - WTKA 1050AM audio
Play Now
|
Play in Popup
|
Download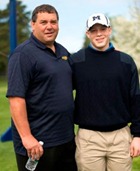 I'll be out there with bells on at the U-M Golf Course, as will Ira from WTKA along with Coach Hoke (left, with Hewlett's son Jeffrey), Mike Hart and typically a bunch of other former coaches/players. And…Coach Hoke may actually swing the club this year which will be sight for sure.
All the details are here.
This is an outstanding event and a wonderful cause. Consider joining us or donating one way or another. Check back in here for photos, jokes and more.
Date:Monday, May 20th, 2013
Time: 10:00 a.m. – 6:00 p.m.
Format: 11:00 a.m. Shot-gun Start
Location: University of Michigan Golf Course 500 Stadium Blvd, Ann Arbor, MI
Cost: $250/per golfer
To Register: Download and complete the Registration Form
Register By: May 15, 2013
Follow MVictors on Twitter