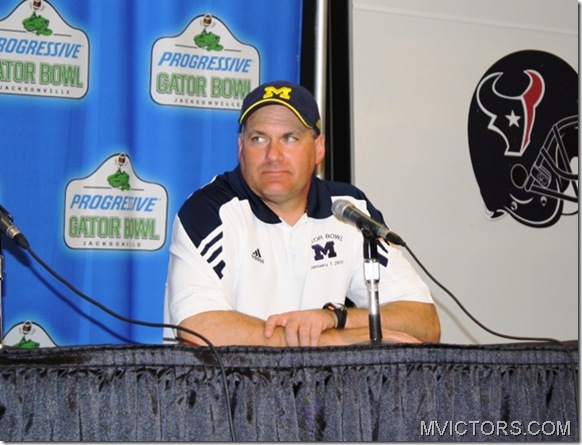 Here's the audio from the press conference:
Rich Rodriguez Gator Bowl audio
Play Now
|
Play in Popup
|
Download
If you need a chuckle—> Denard went before Rich Rod and was asked this epic question about leaving for the NFL next season.   Feel free to download for your mixtapes and remixes.
Full Rich Rod transcription:
Q. Rich, did you have any sense something like this was coming at all either in your team or what you saw from Mississippi State on film?
COACH RODRIGUEZ: No, I thought our guys practiced well, I thought they were focused, how we came out with the right intensity.
But from the second quarter on, we did not execute. It sounds simplistic, but it's very disappointing because the guys have a great attitude. But they made plays and we didn't. They tackled better than us, they caught better than us, they ran better than us, and that's unfortunate. Our guys did play hard, we just did not play as well as we're capable of playing and they played extremely well, and that was the ballgame.
Q. A lot of players make comparisons having a lot of time to prepare for Connecticut, kind of comparing that to having a lot of time to play in the Bowl game. How was the execution different in both games that kind of made it different?
COACH RODRIGUEZ: Well, if I had the golden answer to why sometimes 18, 19, 20?year old kids don't always execute perfectly, it just happens sometimes. Sometimes you press a little bit, and I think that probably may have happened a little bit today. When we got behind, we probably pressed a little bit and didn't maybe concentrate as much. I don't know, but it happens sometimes. We obviously didn't tackle well, and we couldn't get our defense off the field. So you couldn't really get a lot of positive momentum.
And when we had a chance to make some momentum offensively, particularly in the red zone when you can't kick field goals, it hampers you a little bit. All in all, we didn't play as well as we could play and they played extremely well. I don't know if they had a penalty until later, the last five, six minutes of the game. They played well, we didn't. End of story.
Q. I was going to ask you about the first possession of the second half. Did that kind of take away your chance to get back some momentum?
COACH RODRIGUEZ: Certainly it stemmed the little momentum that we had. I mean, you've got to come away with some points there and get within two scores. I know hindsight is always a little easier to look and say maybe you should have went for it on 4th and 5, but you've got to be able to make that field goal, too. So I knew that was kind of a downer. I felt that a little bit, and we tried to bounce back from that, but we didn't.
Q. What did you think of Mississippi State's defense, especially the linebackers playing you guys sideline to sideline?
COACH RODRIGUEZ: They played well. They tackled well. They're very active.
But again, looking back, we moved the ball, we just didn't finish drives, particularly after the first quarter. Again, I don't know if it was just because we were pressing or whatever, what have you, but you give them some credit. But the looks that we were getting, I think our guys felt comfortable because they've seen them for a couple weeks.
Q. What's your mood right now? Surprised? Disappointed? Frustrated?
COACH RODRIGUEZ: Yeah, probably all those. I mean, disappointed and frustrated, and I think you ask our players, they'll say the same thing. But not discouraged because we've got a great group of kids. There are some guys that ?? I guess lack of improvement defensively is frustrating for a lot of us and for our fans, and we expected to see some, but I don't know if you should expect too much when you see two freshmen.
It's not excuses. I've said this many times to the folks that follow us at home. But when you play true freshmen, true freshmen, as many as we play on defense in key roles, it's going to take a while before we can raise the level of play where you need it. They need an off?season. They need to get bigger and stronger and faster and understand the speed of the game better, and they will. They're a good group of young guys, they just had to play before they were ready and they weren't good enough.
Q. When do you expect to meet with your athletic director and what case will you make for keeping your job?
COACH RODRIGUEZ: Dave has been around, and he's doing his evaluation. I don't know when we're going to meet.
Q. How frustrating has this last month been for you with everything swirling around?
COACH RODRIGUEZ: Frustrating? I don't know if that's the correct word. We just come to work. I mean, one thing I'm proud of the players and the staff is we have not cheated the University of Michigan a day of work, and I wouldn't allow it and I wouldn't let our staff allow it, wouldn't let our players allow it and never have in my entire coaching career. And we're paid to do a job, and we did it as hard and as well as we could with some obstacles, but everybody is going to have obstacles. And that's the one thing that even though the season certainly didn't shape out the way we wanted it to and there's a lot of things that happened, we fought through it, and the team got closer. This team is closer today than it was a week ago and three weeks ago, and sometimes there's some hard lessons to learn for all of us. But there was nobody cheating our school a day of work; that I can trust he ?? trust me on that.
Q. With the way the defense has been playing, do you feel pressured like you have to score on every possession? Does that let you call the plays the way you would like?
COACH RODRIGUEZ: You know, there is something to that point right there that I think you do feel sometimes that you probably ?? it changes a little bit on how you attack somewhat. And sometimes you don't go as fast because you want to get your defense some rest so they can kind of recover. So certainly when you can't stop them, it changes your mindset somewhat.
As a head coach, you've got to be understanding of all the phases and had we been a little bit better certainly at times defensively, there's no question we would have won more games. I mean, I'm stating the obvious there. But we will get better. Do we have to look at some things and evaluate some things? Sure, that's my job, evaluate everything. I know we're going to get better because those young guys will be a year older, but I also know we're going to be better because I'll evaluate everything and get it right.
Q. Do you get any sense because of the way this game unfolded that ?? any sense at all that this will affect Brandon's decision about you? Did you think it was about this game and that this could impact it negatively?
COACH RODRIGUEZ: You're asking the wrong person.
Q. Do you think you'll be back next year?
COACH RODRIGUEZ: You're asking the wrong person. I do.
Q. Do you think your team was distracted by all the hoopla surrounding your job status?
COACH RODRIGUEZ: Really we didn't talk about it much, really. I know that guys ?? it was the elephant in the room every time our guys were meeting. But I would tell you if it did. The practices were sharp, the kids paid attention, the coaches did their job. I mean, they recruited their tail off ?? the hardest thing with all the speculation is recruiting, you know, players that you're recruiting and develop relationships want to know if you're going to be there. And our coaches have done a fantastic job of selling the school and selling the program and getting commits in the midst of all this stuff. So that told me that our guys, our coaches are doing a good job, our players are staying focused.
You know, Denard is one of our best recruiters. He'll sit there and a guy will come and visit campus and Denard will say, "Let me have him, I'll get him committed." So that tells me our guys are focused on the day, on what they need to do to develop our program and they have been since day one. I would be disappointed if it was ever anything other than that.
A couple postgame photos of note.  I know, you don't give a crap: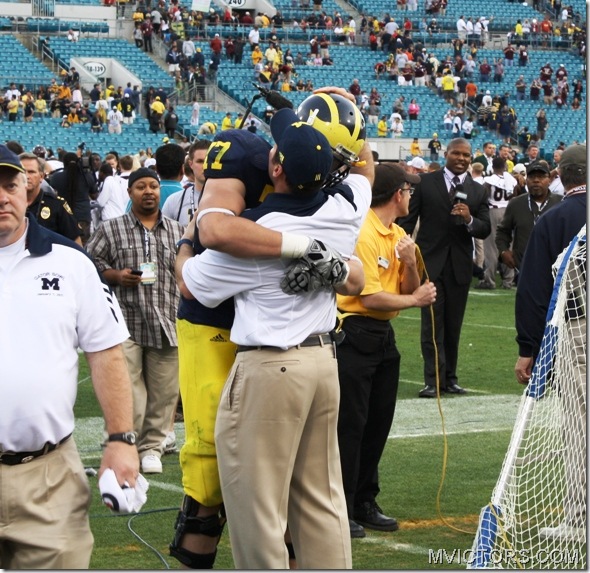 Barwis with a few words & a hug for Taylor Lewan after the game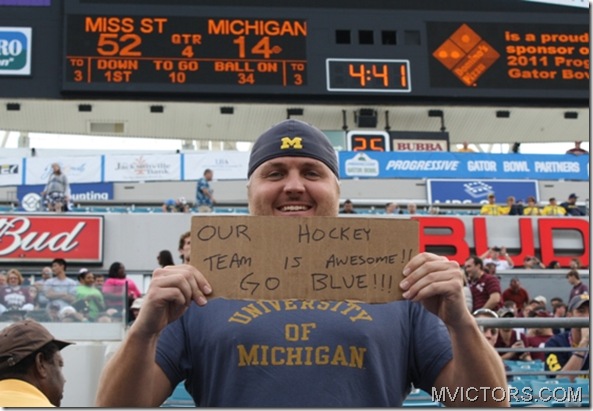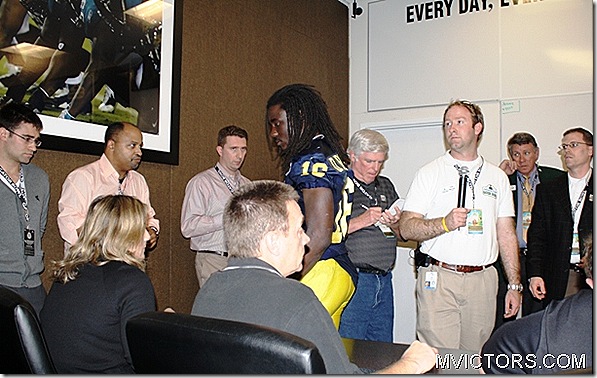 Pregame: