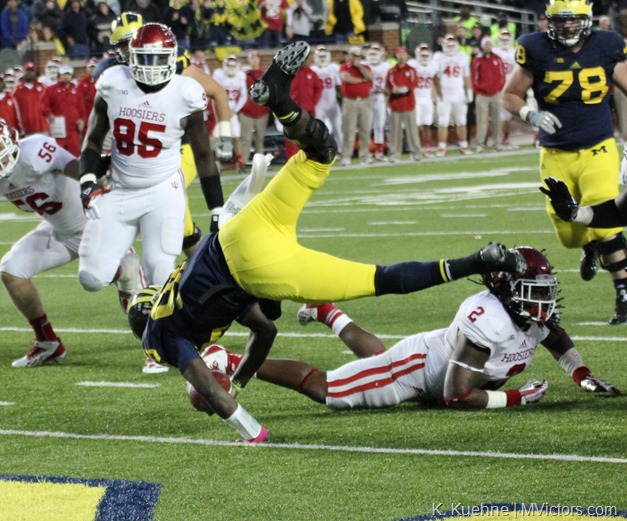 Saturday's edition of this week in Michigan Football History went back to 1904 when Yost's Point-A-Minute crew put up nearly 3 points a minute when they crushed West Virginia 130-0 on October 22, 1904. A Morgantown paper described the offensive fury: "At other times they say that they heard a heavy roaring sounds as if the air was being split by heavy rushing bodies, but this soon passed away, and the scorer announced that another touchdown had been made."
The big difference of course with that 1904 beatdown and what we saw Saturday was that the Yostmen gave up a mere 3 yards on the other side of the ball. It felt a lot like the RichRod Illinois shoot out back in 2010 but of course that 67-65 score was artificially inflated by the overtimes. One time RichRod talked about the wild games, shrugged as said at least they are "fun to watch." Kinda.
This has been a strange year, man. One thing I thought was an absolute in the Hoke era is that if nothing else we had a sound defense, and it got better as the game went on and it got better as the season progressed. I not disappointed as much as I am confused by what happened Saturday. Methinks answers come in two weeks.
Misc:
Shoulda, Shouldn'ta. Michigan should have tried an onside kick after the PF call on the hit on Gardner in the endzone. Instead Wile kicked the ball into an ear of a sophomore in the 9th row of the north stands. mgo-Heiko asked about this in the postgame, Hoke said he considered a lob or a squib or something but obviously thought otherwise. As Matt P. of MNB News pointed out to me upstairs, heck, after its first snap IU had the ball on the 40 anyway, which is where an unsuccessful onside would have set up the Hoosiers.
While we're on the nitpicking, the Hoosiers went for 2 way too early in the game (late in the third IIRC).
History Aplenty. Via the game notes, lots and lots of historical marks:
• The announced attendance was 109,503, marking the 249th straight game of at least 100,000 people at Michigan Stadium.

• Michigan has won 19 consecutive home games, the longest active streak among BCS conference teams.

• Michigan set a school record with 751 yards of total offense, beating the previous mark of 727 yards against Delaware State in 2009. U-M's 751 yards is the second-highest total in Big Ten history. The two teams combined for 1,323 yards of total offense, which is also a Michigan record.

• Senior/junior quarterback Devin Gardner set program records with 584 yards of total offense and 503 passing yards. He fell one yard short of the Big Ten record for total offense, which is 585 by Dave Wilson of Illinois on Nov. 8, 1980. Gardner has accounted for at least two touchdowns in 11 of his last 12 games, going for at least three in nine of those games.

• Gardner now has 13 passing TDs on the season, two more than last year's five games at quarterback.

• Fifth-year senior wide receiver Jeremy Gallon tallied 14 receptions for a school-record 369 yards and two touchdowns. His 369 yards is a Big Ten Conference record and the second-highest receiving total in a single game in FBS history. He also set a career high with 14 catches, the second-highest total in program history. It marked the fifth time in his career he has surpassed 100 yards receiving.
Won't be Denied: As chronicled by Craig at The Hoover Street Rag, Michigan has now scored a point in 358 straight games. The streak dates back to this day in 1984 (10/20/84) when your Wolverines were shutdown completely by the Hawkeyes. If there's a squad that's poised to put a kink in that run this year it's Michigan State in two weeks.
Sideline Shenanigans – The Michigan bench had two staffers on the sideline hoisting white towels behind Greg Mattison, seemingly (?) to block his defensive signals/instructions from the IU coaches upstairs: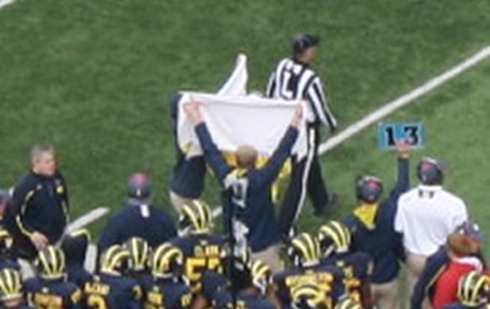 I get it – we didn't want any of the secret Hoosier-stifling formations to be exposed. This isn't the only time the Michigan sideline employed a security net of sorts. Recall in 2007 when Mike Hart went down during the Minnesota game – the staff formed a human wall of solitude around #20: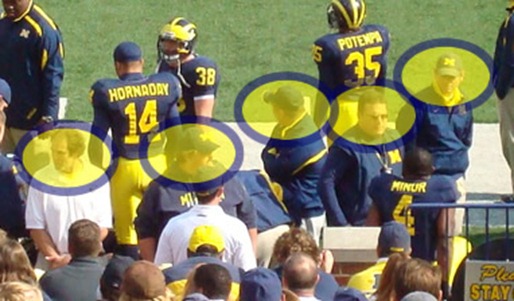 Indiana also had some sideline action going on, flashing those signs that hold some significance for the guys on the field. One had numbers and a $ sign and one featured a few ladies including ESPN's Sam Ponder and..her cousin Sage Steele bottom left: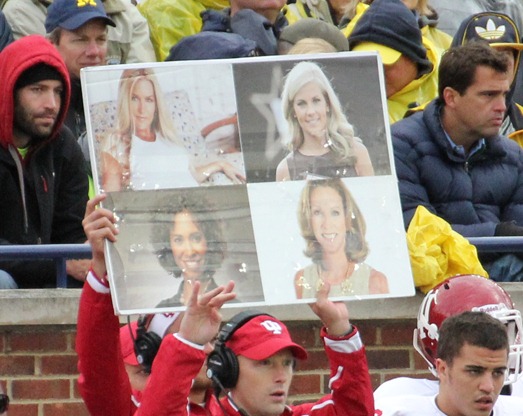 This one might have been a little more helpful for the IU defenders: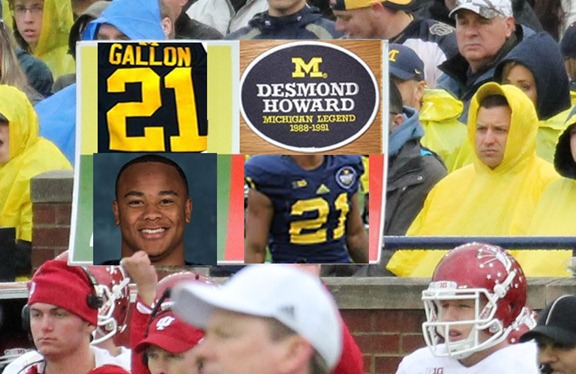 Marching Men > The MMB formed the stick figures of a man and a woman during halftime…here's the Man on the south side: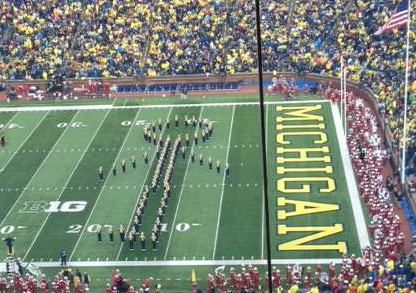 ..and this reminded me of the epic Jaws set unleashed at the 1976 Orange Bowl: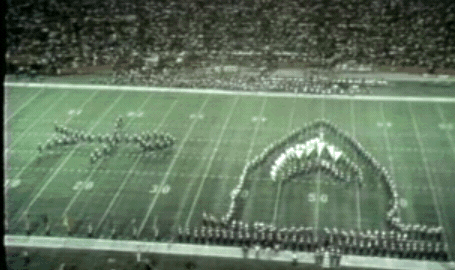 Mood: Slight uptick on the heels of that GallonFest, and how could it not? Still you really don't understand much about this team, do you?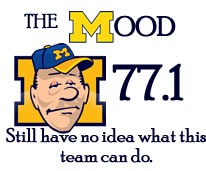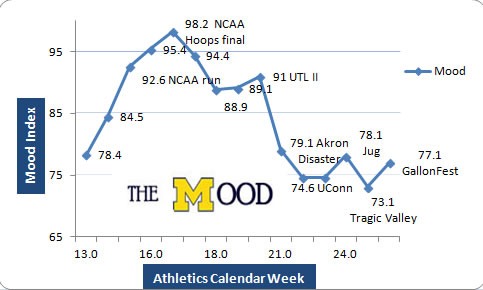 Uniform Notes: Players were still wearing the LHS decal. And [updated] as Dr. Sap points out, the players added a pink ribbon for Breast Cancer Awareness on Saturday and the Uniform Timeline is updated: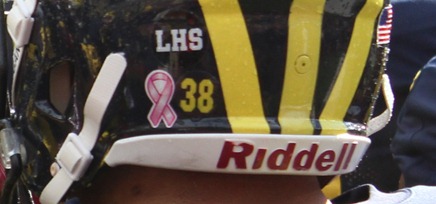 Beyond this I don't think we can count the pink accessories as an official uniform change, can we? I've tossed in gloves before and those looked new, but it doesn't seem to be a true change. Delonte wore mucho pink but doesn't seem thrilled about it: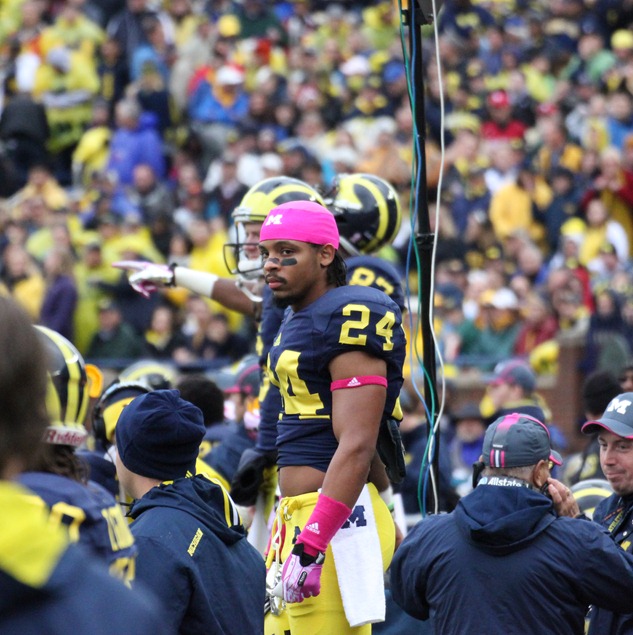 And the band got in the act with pink drumsticks and check out the gloves: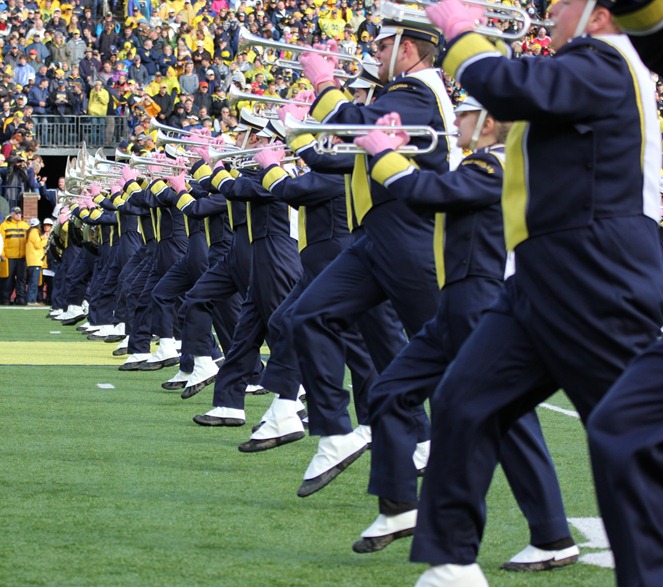 Super Tuesday: Don't forget to keep tabs on the U-M History calendar on my right sidebar or here. Of note: Tuesday not only marks the anniversary of that 1904 WVU Beatdown mentioned in the intro, it marks the anniversary of the Michigan Stadium Dedication (1927), and…it's the 30th anniversary of Bob Bergeron's game winning kick against Iowa in 1983 and I'll post my interview with Bergeron here.
Elsewhere:
Maize and Blue News has postgame interviews and a game recap
Maize and Blue Nation delivers 5 takes and a precious extra point.
Phil of umgoblue on Bleacher Report:
Michigan State will be a crucial test for the Wolverines.

A victory could quiet critics who question how much progress the program has made during Hoke's three years at Michigan.

A defeat will deal a serious blow to Michigan's chances for a Big Ten title and might raise the temperature on Hoke's seat in Ann Arbor.
mgo-Ace does a real recap this week:
In real life, the Wolverines and Hoosiers traded haymakers, smashing records while combining for 1,323 yards of total offense. I'll spell that out: ONE-THOUSAND, THREE-HUNDRED AND TWENTY-THREE YARDS OF TOTAL OFFENSE. 751 (SEVEN-HUNDRED–okay, you get it) of those belonged to Michigan, a school record.
More from MVictors: