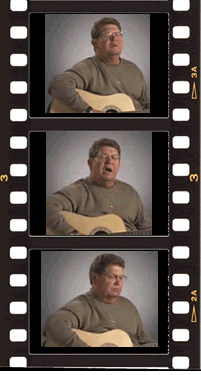 Two weeks ago a talented West Virginia football fan launched his masterpiece titled Rich's Ass on YouTube. Over four thousand views later, Rick Heim has become a bit of a local icon and his tune has been spun on news and radio stations.
The cleverly worded anthem, which also features Heim on acoustic guitar, sums up the betrayal the Mountaineer faithful feel in their hearts since Rich Rodriguez up and bolted for Ann Arbor. Verse after verse in Ass, Heim draws back, takes dead aim and ultimately lands a handful of metaphorical arrows squarely in Rich Rod's kiester.
As expected Wolverine fans didn't take kindly to Heim making a mockery of their new coach. While there's an underlying appreciation of his subtle genius, Michigan backers were none too happy calling Heim everything from "retard" to "numbnuts".
The signer/songwriter was kind enough to answer a few questions about his inspiration, clean coal, his new celebrity status around Morgantown and much more:
MVictors: While the source of your passion is clear, what ultimately inspired you to produce this piece?
Heim: Women! Just to pick up women. (Just kidding). While Rich's leaving our program seems to be the focus of many of your viewers as well as many around the country, it's really about how he left. The year before you guys lured him away with promises of many riches and a fresh cheerleading squad (just kidding), Alabama was courting him. Some of my friends and acquaintances put up a lot of money to keep him at WVU with some assumptions of his longevity as well as some promises I understand. Plus WVU, unlike Michigan, doesn't get a shot at the National Championship except maybe one time in several decades so we felt betrayed by the timing of his departure. Sorry for the rant but you asked the question.
MVictors: Who are some of your musical influences?
Heim: My two main influences are Willie Nelson and Allison Krauss who rumor has it might be dating. I really like Allison's music and I have even written a song about her which I hope to record next week. I've had my people (me) contact her people to get their blessing but so far I've heard nothing from them. It's titled "Allison Krauss Tribute"–I started writing music so I could meet Allison Krauss. No false expectations just having fun with it. I wrote that song about a month ago and have written 22 others in that month's time some silly, some touching, some better than others. My writing philosophy mirrors that of one of the songs I wrote, "Country Music and Spaghetti" – the gist of it is country music's like throwing spaghetti against the wall, just keep pumping out the tunes and some will stick and some will fall. You Michigan people don't get any ideas about stealing my idea. I know you're propensity for thievery but it's already copyrighted (just kidding).
MVictors: After publishing this song you've become a YouTube sensation, are you able to go out in public in Morgantown without being mobbed?
Heim: Funny you should mention that, I was jumped last week when I was walking down the street to Blackwater Video where they make the videos for my cds I had a shitzu jump me and had his way with my leg – but that's about all the excitement I've had in Morgantown. They're playing the song a little but some of the radio stations are afraid of the word "ass." They play the rap songs that throw the "F" bombs around but they're afraid of some hillbilly saying the word ass, several times I might add.
MVictors: Is there really such a thing as clean coal?
Heim: I think the term "clean coal" down here is like the words "clean auto emissions" up there. They're working on it. I've never seen, been in or been up close to a coal mine, however, many of my friends and customers are involved in the mine industry. A lot of different industries have come here including the FBI Fingerprinting Facility, NASA and several other government organizations here in the High Tech Consortium. Here's more info on coal from the West Virginia Coal Association.
MVictors: Are their similar feelings toward John Beilein (and folks kicking his ass)?
Heim: No, there really aren't. Not towards John Beilein or any of the other coaches who have left including Bobby Bowden. All these coaches exited with our blessings although we hated to lose them. I can't stress enough it wasn't Rod's leaving that disturbs all of us – it was the method in which he did it.
MVictors: Does WVU have any good softball coaches, just in case our beloved Coach Carol Hutchins retires?
Heim: I'm not really into softball that much but word has it that our women's soccer coach, Nikki Izzo-Brown, has a Wolverine hat in her closet.
MVictors: Is there a follow-up song in the works for next season? Can you give us any insight?
Heim: No. Nothing planned for next year not as far as coaches songs, not after the grief I've gotten from the opposing team. I was called retard, hick, hillbilly and redneck, not to mention various other things most of which are true – but some aren't. Don't forget, I spent a lot of time in Michigan and it can get pretty red up there too (just kidding). The new songs that I've written I do plan on producing shortly in the new studio I just set up at work. My next venture is actually a dedication to some dear friends in Wilmington, North Carolina whose wedding I attended recently. They put me in charge of locking a door in the church so that people couldn't enter late and disturb the ceremony. I needed a smoke and I locked the door a little early, locking out the musician out who was to sing a song at their ceremony. They never got to hear it. So it should be on my website and my employees will probably see to it that it gets on YouTube.
MVictors: Any chance you could pull together a tragic ballad for the Detroit Lions fans, perhaps to the tune of Johnny Cash's Folsom Prison Blues?
Heim: It'll take more than a ballad to help the Detroit Lions!
MVictors: Where can you fans get updates on you and your music?
Heim: My website is ukeleleman1.com and the YouTube site is "Rich's Ass WVU" and it will be updated as I record new music. I'll be out of the country for a few weeks on a fishing trip so it will be closer to the first of the year. I appreciate all of the support I have received from the people in Michigan and Greg for allowing me the opportunity to explain my passion and my song.
Here's Heim laying down the original Rich's Ass: