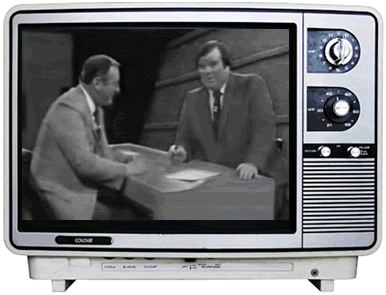 This
really isn't news
– today's Angelique Chengelis column announces that
Michigan Replay
is dead. We learned sometime this Spring that coach Rich Rodriguez didn't like the post-game format, citing that having to do this show after a loss would be brutal. After watching the guy talk to the press after the Pitt loss last year you know where he's coming from.
Replay has run since 1975 and Michigan radio color man Jimmy Brandstatter has hosted the show for the past 28. He'll continue to do the show in whatever form it takes, likely some type of pre-game deal. I vote for a SNL 'Super Fans' round table with all Ditka references replaced with Bo until Rodriguez gets going.
Take: This may be a surprise to a few of you, but while I respect the tradition of the show [here's Brandy with Bo after the Wanger to Carter IU game….unreal], the format is way past its prime. I realize that many of you made this a Sunday morning tradition, perhaps you and your Pops watched it together, etc., but it is time for a change.
In the 70s and 80s, seeing the highlights from the game was probably pretty special. Today you've already seen the highlights fifty times between Saturday night and Sunday morning. And while the player profiles sometimes yielded some nice info, the content of the back and forth between Carr and Brando was soft at best. Sharp or surprising quotes were scarce. It definitely wasn't appointment television for me (ok, maybe after the Appalachian State game). I'm looking forward to the new format.