Excellent observations from today's practice from ESPN's Adam Rittenberg [who's got a bit of Jared from Subway in his blood] on his blog post here. He notes that Kevin Grady practiced with the team and here are a few more highlights:
* Feagin's speed is immediately noticeable, and he looked comfortable running some of the basic option pitches and throws in the spread offense. My guess is he'll be used to run some option this fall.
* Freshman Michael Shaw seemed to be getting a lot of work at wide receiver. It's a little weird to see No. 20 in maize and blue who isn't Mike Hart.
* Walking through Michigan's weight room on the way out, I stopped to check out the team-high totals for several categories. Johnson tops the bench-press chart at 500 pounds, Taylor squatted a team-best 625 pounds and cornerback Morgan Trent ran a 4.13 in the 40-yard dash.
There was also a Barwis mention of course.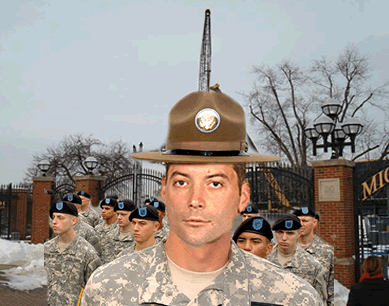 Look dudes, I realize that all the attention is great for the program and recruiting and all, and it's cool to have this guy here. And I'm as guilty as anyone for deifying Barwis, I even followed him around at the spring game in Saline (it was awesome). I'm glad to see I'm not the only one getting a little tired of it all. The frenzy has even prompted a few recent articles that basically say, '"Hey, School X has a pretty cool S&C program too".
Loading ...
Update 8/4: mgoblue.com just posted audio and some additional notes.