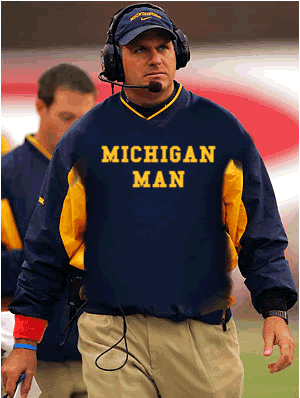 Reports breaking minutes ago, Rich Rodriguez has accepted the Michigan job. As speculated here, looks like this was locked up on Friday.
So what happened?
1. Martin went to Toledo to close the deal and not let Rodriguez out until he accepted. Looks like that happened.
2. Something happened after the Pitt game that turned Rodriguez against the WVU officials, not sure what. He kept them in the dark during this whole process.
3. Assume they worked out the details of the $4M buy-out, just like they did with Coach Beilein. If this money is also going to the West Virginia Foundation that campus is going to have some Thornton Mellon phat facilities soon.
So what's next?
1. Looks like Carr will of course coach the Capital One bowl game but Rodriguez won't be coaching the Fiesta. Will Carr need to pull an Al Haigesque 'I'm still charge' plea?
2. Should be interesting to see how Rodriguez uses the current players, especially Mallett.
3. Jim Carty has a Big East background and there's talk (just talk) of some questionable recruiting incidents related to Rodriguez. If true, you can bet Carty will be looking into it.
4. Hopefully talk of assistant coaches will occur soon. I'd like to see him keep Fred Jackson, possibly Ron English but without knowing how this usually goes, assume both are doubtful to stay.
Update: It's really official, check out mgoblue.com, Michigan's official site. (hey, nice photo!):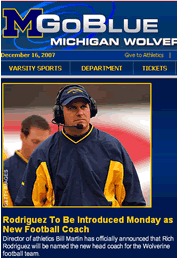 {democracy}