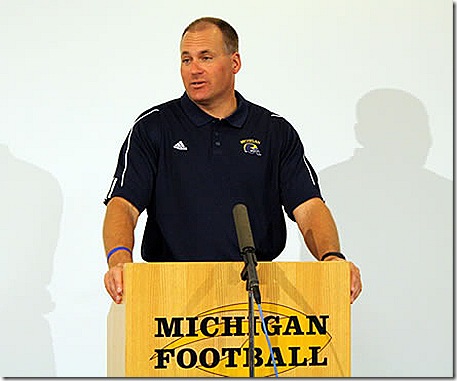 mgoTim's presser notes from yesterday.
On the quarterback competition, here's a clip where he explains how tight the competition really is (even tighter than last year when he played three in the opener).  He hoped he'd have the reps split 60-40 by now, wasn't able to do it.
Rich Rod on the 3
Play Now
|
Play in Popup
|
Download
He also scoffed at the notion that he needs to settle on one guy and fans won't know until kick-off of the UConn game (does that mean we're taking the ball?).
I'm taking RichRod's lead and declaring I'm done worrying about the quarterback situation.  Tate rebounded, Devin's much better than he looked in the spring and Denard seems to be the leader and the team favorite.   I don't think we're going to get anything else.   The big question for me -  How does Denard fare in the pocket when pressured?  We'll find out September 4.