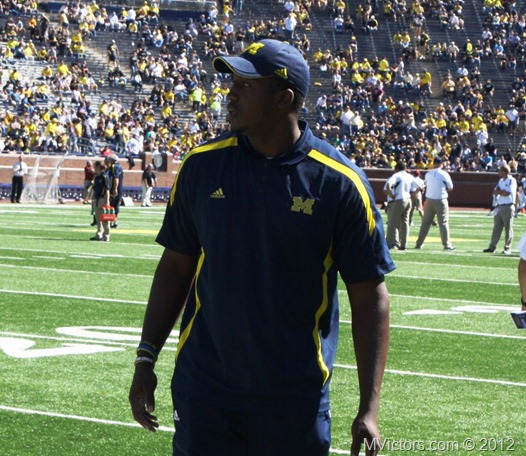 Brandon Moore prior to the game
Via U-M Media Relations:
Kramer Recognized as Michigan Football Legend, Tight End Moore to Wear No. 87 Jersey

ANN ARBOR, Mich. — The University of Michigan Athletic Department officially recognized Ron Kramer as a Michigan Football Legend today (Sept. 15) during a pregame ceremony at the Michigan-Massachusetts football game.

Fifth-year senior tight end Brandon Moore (Trotwood, Ohio/Trotwood-Madison) will wear the No. 87 jersey for the remainder of the season, switching from No. 89. A patch over the left upper chest will be affixed to the No. 87 jersey worn by Moore and all other future players donning Kramer's jersey number.

"I didn't know why Coach Hoke wanted to see me in his office, but when he asked me if I would like to wear Ron Kramer's No. 87 jersey I couldn't believe it," said Moore. "When you think of the history and tradition of this program and some of the great players like Ron Kramer, to carry on that legacy, that responsibility, is humbling. It's an honor to wear No. 87."

Kramer was a two-time consensus All-American (1955-56) and a three-time All-Big Ten first team selection (1954-56). He was a standout two-way player at offensive and defensive end, and also saw time at running back, quarterback, kicker and receiver. The former Green Bay Packers All-Pro tight end was a nine-time letterman in three sports at Michigan: football, basketball and track. Kramer led the Wolverines in scoring for two seasons on the gridiron while doing the same in basketball.

Desmond Howard was the inaugural Michigan Football Legend, honored in 2011 during the first night game in Michigan Stadium history. Howard's No. 21 jersey is worn by senior wide receiver Roy Roundtree (Trotwood, Ohio/Trotwood-Madison) in 2012.

Bennie Oosterbaan was recognized as a Michigan Football Legend prior to the season opener against Air Force, and his No. 47 jersey is being worn by junior/sophomore Jake Ryan (Westlake, Ohio/St. Ignatius). Former players Gerald Ford and Francis, Albert and Alvin Wistert also will be honored as Michigan Football Legends during the 2012 season. Following are the dates for recognizing legend status for those former players:

· Gerald Ford (No. 48) — Illinois (Oct. 13)

· Francis, Albert and Alvin Wistert (No. 11) — Northwestern (Nov. 10)

In addition to the permanent patch, the Michigan Football Legends will be featured in a special area to be designed and constructed in the soon-to-be renovated Schembechler Hall. Also, the lockers to be used in both the Schembechler Hall and Michigan Stadium locker rooms will be customized to reflect the fact that those names will forever be recognized as Michigan Football Legends.