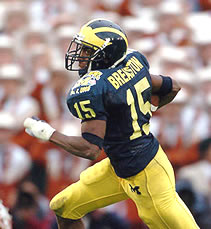 Michigan falls short in classic battle in 2005 Rose Bowl
ONEKAMA, MICHIGAN JANUARY 2, 2005 It was at times exciting, at times confusing – but there's no doubt about it this was a classic. Texas kicked a wobbly, apparently deflected, field goal as last second ticked off to defeat the Wolverines. Certainly if the Wolverines could have put a hand on QB Vince Young, the outcome would have been different. What could have Michigan done better? They didn't make too many mistakes, but here's a few points to consider as Michigan comes home:
– Stopping those QBs. It was the biggest fear of most fans and analysts coming into the game. Would Michigan be able to stop a mobile quarterback. Not only did Michigan not stop Vince Young, the problem seemed to get worse. Young made the Michigan defense look confused, if not foolish. Ohio State's Troy Smith, and thankfully for one half, MSU's Drew Stanton, torched Michigan this year. What is the deal? I thought Michigan had it figured out during the middle of the second half, but no. Big questions remain for the defense and coach Jim Herrmann next year as there's little doubt that the Big Ten has taken notice. Sports talk radio in Ann Arbor (1050AM WTKA) and Detroit (1130AM WDFN and 1270AM) is calling for Herrmann's head (I made a funny).
– Cal looked weak. Ok, with all the fuss over Texas begging to get in (along with some questionable vote changes during the last week), it looks like the best team emerged. While Cal may have just mailed it in in their lesser bowl, they looked slow, undersized and really not up to the caliber of the two teams that played in the Granddaddy.
– Stevie Wonder. Steve Breaston has been injured all year and finally looks to be near his form last year. Texas had no answer for him. With a healthy Avant and Breaston sharing the load at WR next year they should be able to replace Braylon Edwards' numbers.
– Ticket supply. The face value for the M tickets was at $140, but it was confirmed by the Greek that you could buy at around $10/per entering the game. Wow!
– Team Speed. Many folks were talking about how Texas had more team speed coming into the game. While it is true that Vince Young made Michigan's DBs look foolish, so did Stevie Breaston and Braylon Edwards to Texas. The Michigan receivers were open all day and Breaston was hardly touched.