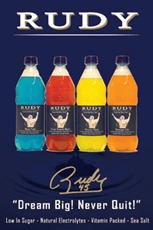 The last year has been a touch stretch for Notre Dame's famous underdog, Rudy.   Last fall his teammate Joe Montana laughed off the movie's storyline, and now this in today's WSJ:
..in a settlement announced on Friday, the Securities and Exchange Commission casts Mr. Ruettiger in a far less heroic light—as a key participant in a so-called pump-and-dump stock scheme that generated more than $11 million in allegedly illicit profits for a now-defunct beverage company, Rudy Nutrition.
Yeesh:
..the SEC charged that Mr. Ruettiger and 12 others made false and misleading statements about their company in news releases, SEC filings and promotional materials during 2008 in a scheme to lure investors, inflate the stock price and then sell their shares at a profit.

For instance, a letter to potential investors falsely claimed that in "a major southwest test, Rudy outsold Gatorade 2 to 1!" the SEC said in its complaint.
A Google search yielded this 2008 press release pumping the product with a few gems:
"It is clinically shown to decrease the formation of certain bacterias and plaques in the mouth."
"Rudy is not in competition with many of the other beverages in the store or vending machines currently. The drink is in a class of its own "the new age beverage" category."
My favorite:  "It's the little guy rising to the top all over again."