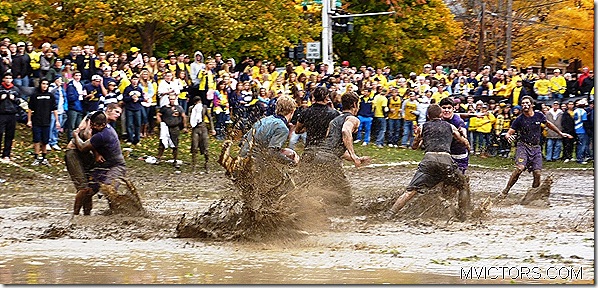 Another wonderful University of Michigan tradition renewed itself this morning, as the Mudbowl was played at the SAE house at the corner of Washtenaw and South University.  The host fraternity battled Phi Kappa Psi, the victors of a tournament this week that granted them entry into the annual contest.
SAE prevailed 19-12, although the game ended in a bit of controversy.  The men of Phi Psi rallied through the mud needing a touchdown as the clock winded down.   On the final play of the game their wily quaterback, who was phenomenal all day, connected on what looked to be a touchdown but it was ruled just short of the endzone.  As time expired, the Phi Psi fans chanted "bullshit" and hurled cans of beer down as the SAE squad celebrated.
From my vantage it looked like a score but it was certainly close.  And for what it's worth, Phi Psi would have need to convert an extra point (either to win or tie) which is about a 1 in 3 proposition in the slop.  Also in fairness, the refs awarded Phi Psi a touchdown in the same end earlier in the game that looked clearly short of the goal (it was a good three feet shorter than the final catch ruled short). 
For those wondering about the annual sorority game usually played at halftime, sadly it didn't happen and the field was strangely idle during the intermission.  The national chapters representing the gals decided the potential liability associated with the event wasn't worth the risk, and the game was canceled.  A contact at one of the sororities that was to play told me that ladies even agreed to sign a waiver but alas, it wasn't enough for the nationals to back off.   That's crap.
Enjoy a few photos from the day: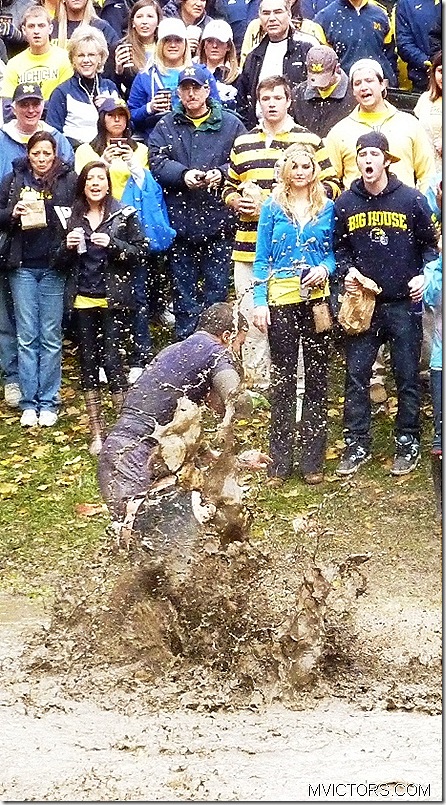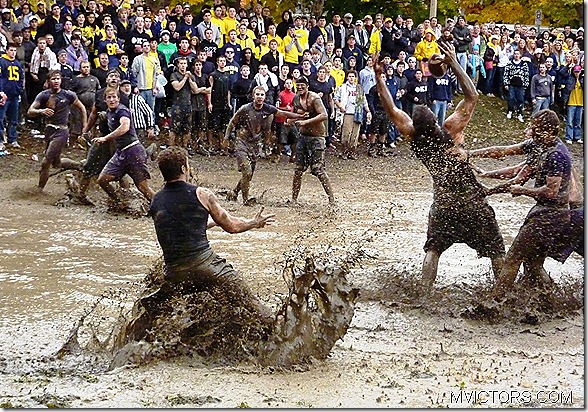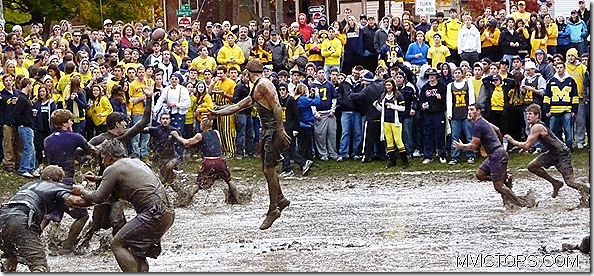 Here are all the photos, enjoy:
Related:
* Mud Bowl 2008: SAE Rolls (photos, video)
* Homecoming: No Mudbowl this weekend
Ed 10/26/09:  Since many are dying for a photo from the mud sorority game that didn't happen, here's an unreleased pic from 2008: