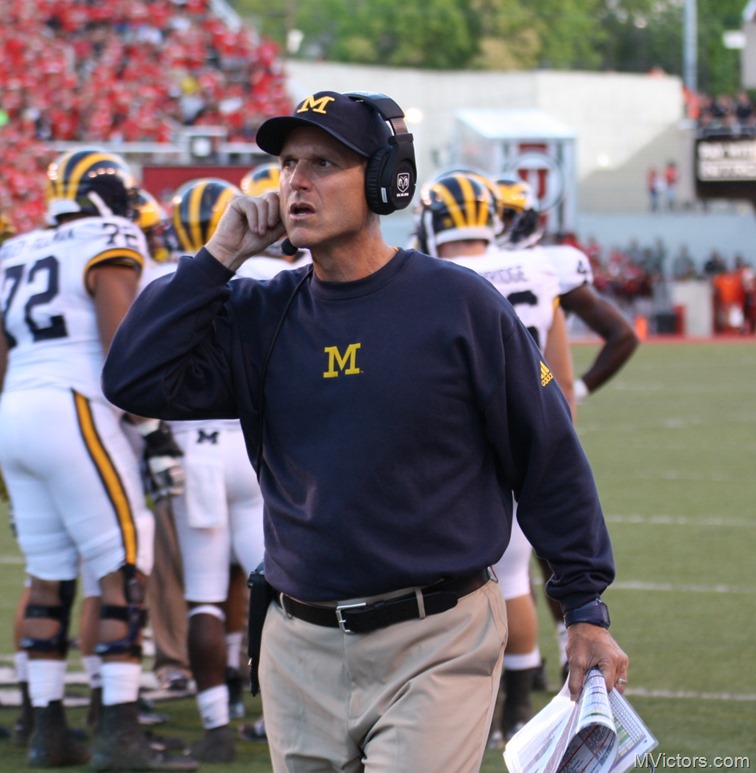 Darn. It turns out there is no magical khaki lint for #4 to sprinkle around the locker room but you, the most rational and reasonable Michigan fan, was still hoping there was. Guilty as well.
So look. It's going to be tough to win anywhere with a quarterback making that many mistakes. And by Harbaugh not inserting Morris after the pick six suggests that the competition was never that close. We've got a problem here. Feel free to jump down to bright sides at this point.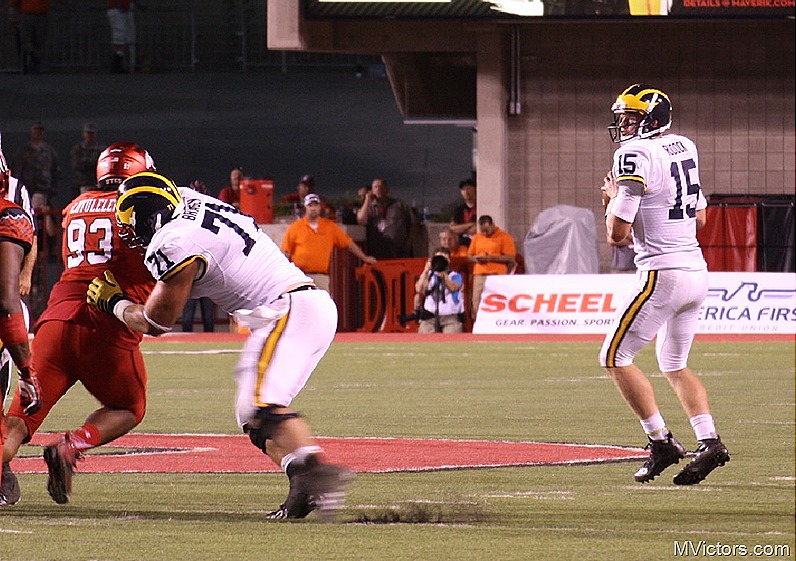 I think Harbaugh called a good game. Conservative but the opportunities were there – Rudock just didn't cash in. We didn't try anything tricky beyond maybe tossing into the 2nd level over the middle, but in the middle we've apparently got a guy in Butt that could be catching pills from Tom Brady on the off chance Gronk hurts himself by doing something weird.
On the ground, De'Veon Smith's toughness is so impressive but he just never had the space. I watched from field level and haven't seen any replay yet—my questions: is he not hitting the holes, and/or is he not quick enough to get through the holes or were there just not enough holes? That's got to get better as well.
Bright sides. But ahh, there are a few sunny bullets as I type this on my way out of beautiful Salt Lake City:
I'm glad we played this game – that was a good team and traveling that far is a tough way to start a season. But they will be better for it in November.
The team seemed tougher than I've seen in a while. Not as much dancing around, jawing and yapping. (I still miss Norfleet). Just actually being tougher. What a concept.
Conditioning – I was worried (really worried) that a few guys looked winded early on the game. But they hung tough and seem to be in excellent shape.
The defense did a nice job overall, didn't they?
The pass protection seemed solid – by and large Rudock's mistakes weren't the fault of a line.
While the biggest issue is clearly at quarterback, Harbaugh's got an ultimate set of QB tools – he can fix it.
Butt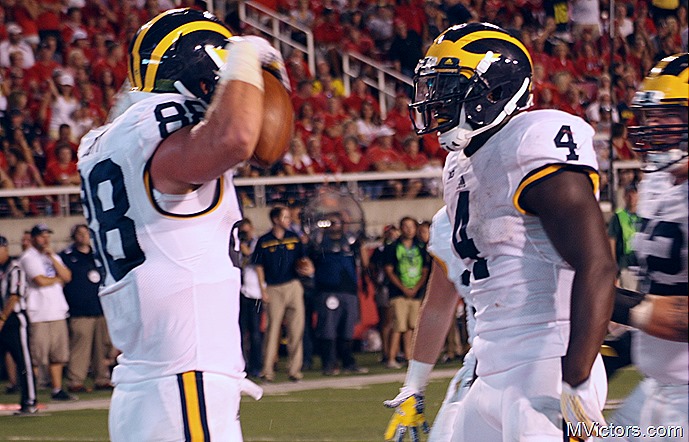 Sights and Sounds:
Utah fans – For Rice-Eccles being the size of a thimble (it was as an all-time record crowd of 47,825) the place definitely could get loud. And just because there are deep Mormon roots and perhaps influences in the area, don't think they couldn't be nasty. F-bombs were hurled at your beloved maize and blue I can assure you. And I'm not saying that doesn't happen in Ann Arbor, I'm just sayin'.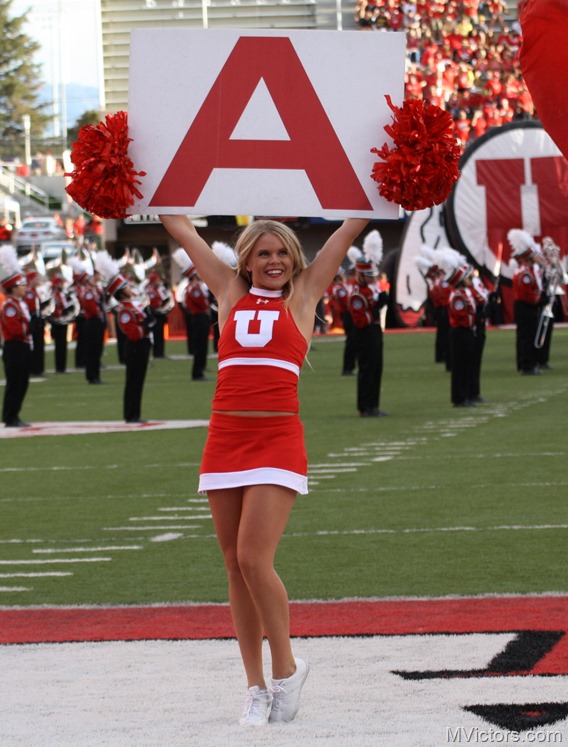 Actually I give Ute fans a 'B+'
Ball gone – And speaking of Utah fans, something I don't think I've seen before. One M player booted a practice kick over their net and the ball never came back. The Ute fans just kept it. The U-M ball boys were noticeably pissed.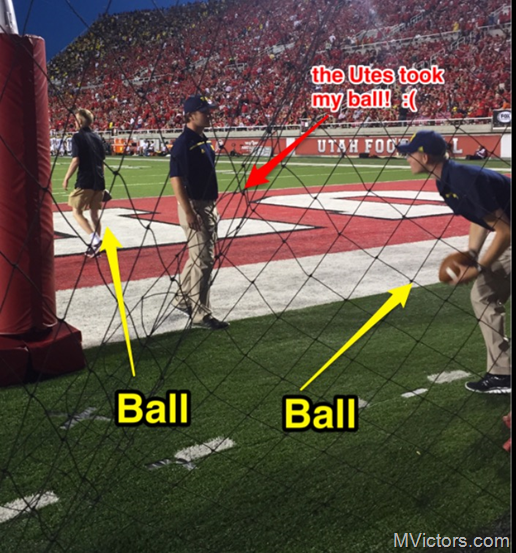 One asked another, "What about security?", and the reply was, "What security?". Good point. To my next point.
Security – FWIW there really wasn't any tangible security at all at the place – that is, beyond the cops around the coaches and the guys keeping people off the field. I wasn't the only guy with a credential who walked right in to the underbelly of the building without being checked for anything – credential, bag, what have you. Perhaps that's part of being in Salt Lake City.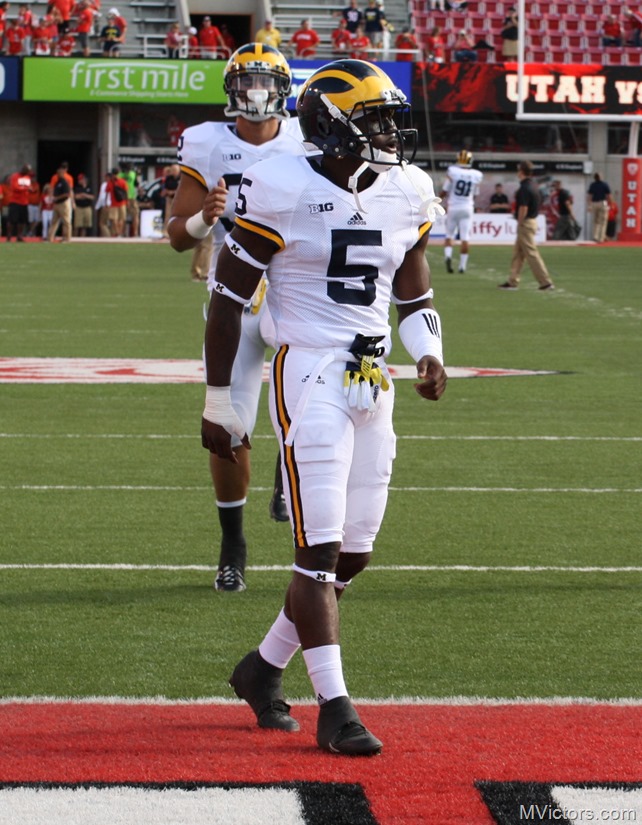 Uniforms – More detail here. I thought the all-whites looked okay, and I like the darker shade of maize. I'm iffy on the darker shade of blue (it almost looks black to me- perhaps it is a salute to Hoke's gameday pants). The Uniform Timeline is updated with the details. So look for next week – see if you notice how dark the jerseys will be.
Historical Notes – Really not too many. This was the first major conference road game since 1991 against Boston College (and Desmond Howard erupted, launching the Heisman-winning season). Speaking of trophies, methinks Jake Butt is the latest Wolverine in the running for the coveted September Heisman?
A few more shots from pregame: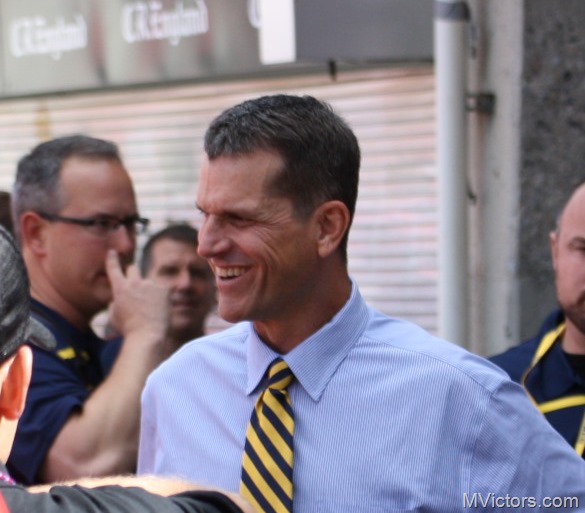 Nice tie! I wonder where he got it? See @johnubacon's Endzone for more on that. (Speaking of Bacs – he was spotted at the game looking sharp and even signing the occasional autograph for Meechigan fans. Go Bacs, go).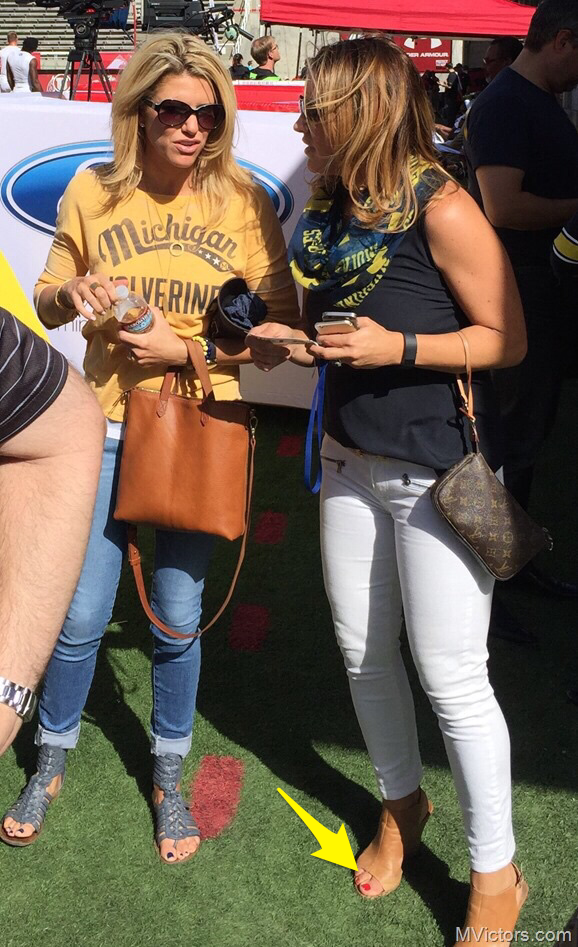 Mrs. #4 (left) –with her buddy who didn't get the memo on the acceptable shades of nail polish this and any other every week. We need focus – top to bottom, people.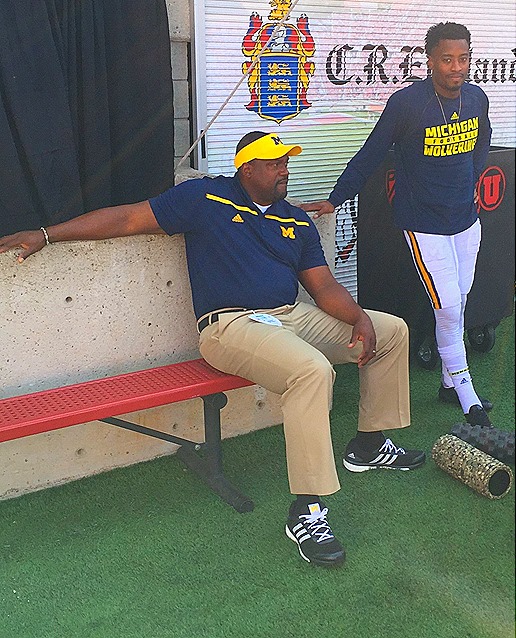 Coach Wheatley expecting the Salt Lake to flood.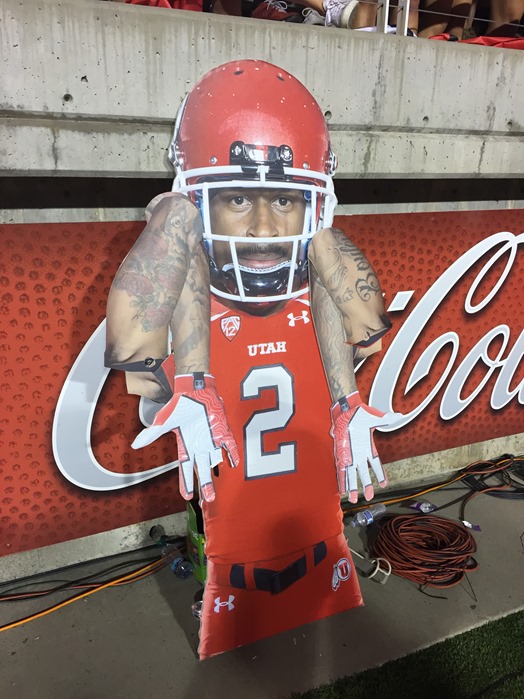 We need a Jake Butt version of this in the student section next weekend. The arms move around, they move around! Ok maybe it's just me.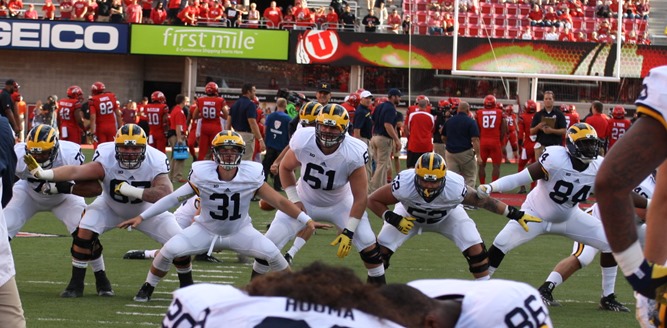 Need Bo's yardstick to check the spacing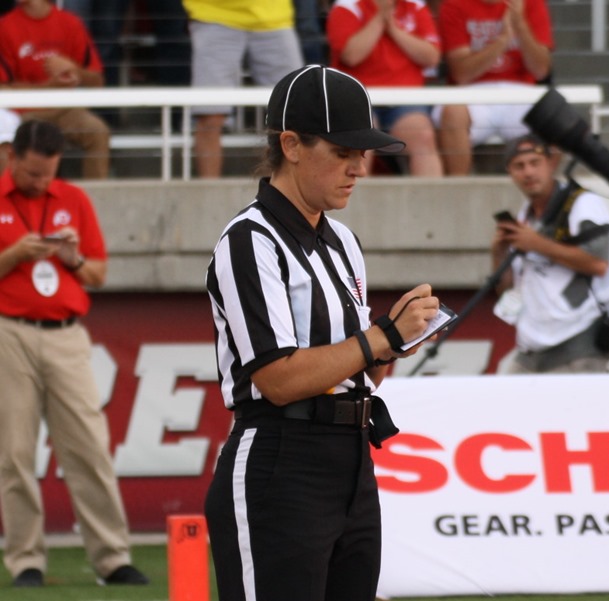 Shopping list? OK that was wrong.
Srsly I think it's very cool to have women refs out there.
A couple shots from the game: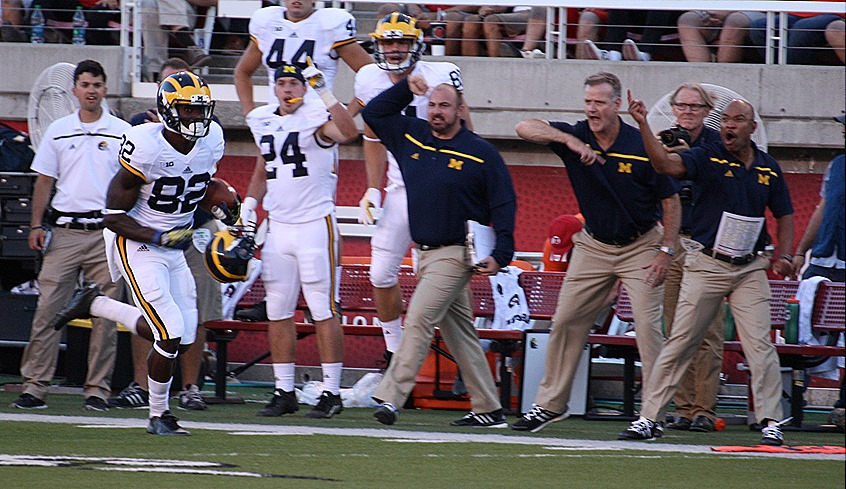 82 thought bubble: "Hold up assistant coaches, I'm confused. You want me to GO? DOWN THE FIELD? This way?? With this pigskin in my hand and those flying red guys trying to kill me?"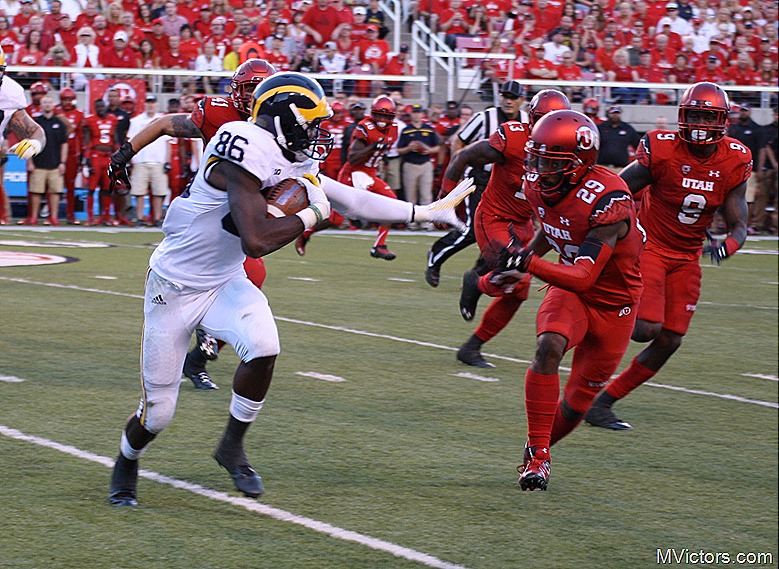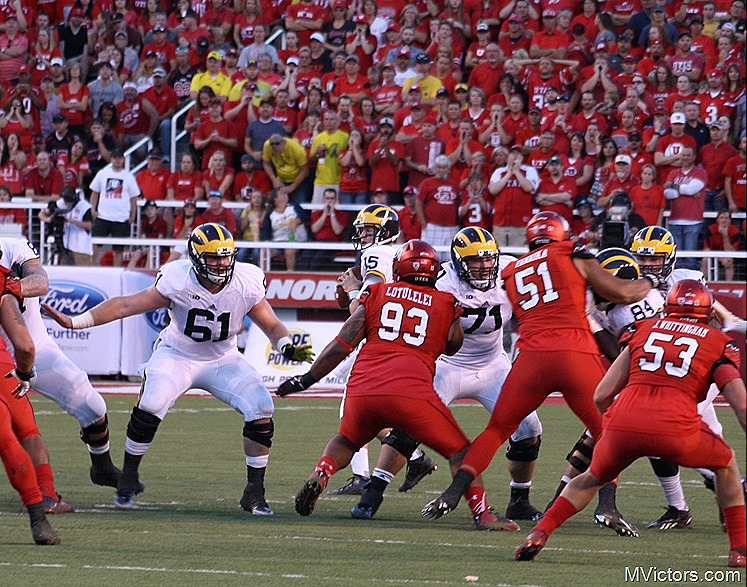 again, I thought these guys did a nice job in pass protect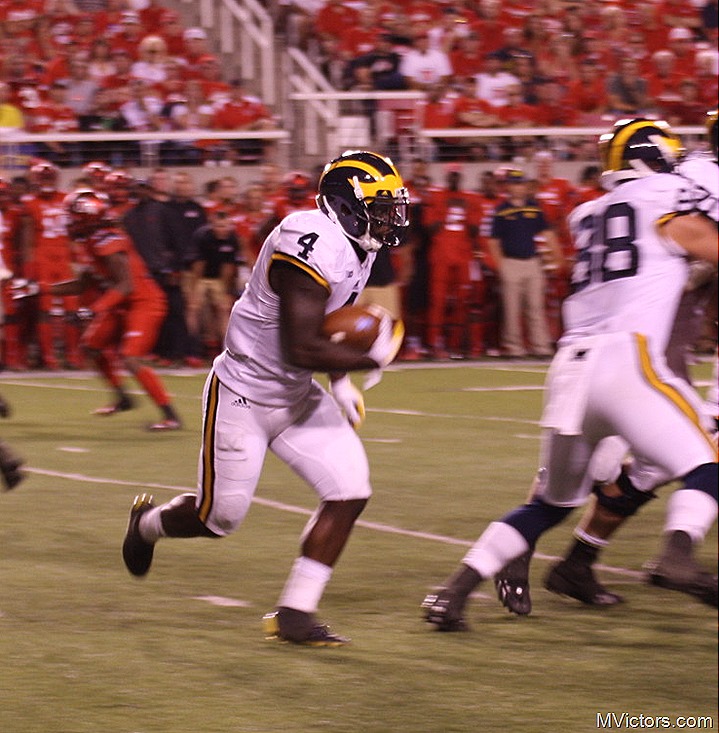 See you next Saturday. By then we should be several percentage points better.

More pregame stuff:
Follow MVictors on Twitter