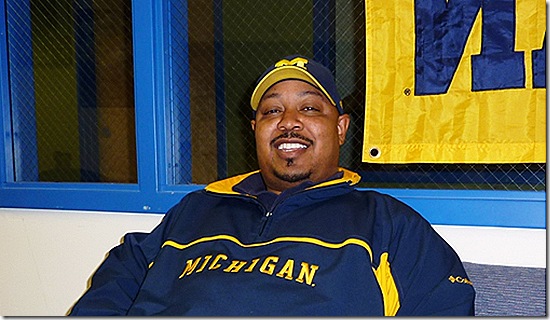 Continuing my interview with Sam Webb, managing editor of GoBlueWolverine, Detroit News Columnist and WTKA 1050AM morning show host.   This time we take a look at Sam's take on the morning show, what works and what doesn't.  We then talk about Sam's perspective of the rivalry between Webb's GoBlueWolverine and The Wolverine, their competition.
You can also check out Part I, Part II and Part III here.
MVictors: How are the ratings for the morning show on WTKA?
Sam Webb: I haven't seen a [ratings] book since Andy left. They changed the way they do ratings, it used to be with Arbitron and I haven't seen anything since all that changed. The last book I saw, it might have been a few months before Andy left, we were actually the top morning show in this building.
MVictors: So are Cumulus and folks in this building happy with you and [WTKA morning co-host] Ira [Weintraub]?
Sam Webb: You know and if they aren't, I haven't heard about it yet [laughs].  When I first started the morning show one of the major things I was interested in, because I was not a radio guy by trade, was getting the best opportunity to be good.  Just give me an opportunity for it to work.     I think when we first started, that with my first partner there was just no chance of us ever being good. There was no chance.  Then when Andy came along we had that chance because Andy and I were naturally opposite enough that it really worked on the radio. He was super tall, I'm not. He's white, I'm black. He's square, I'm not [laughs]. I mean there are so many things that were different and then it got to the point where I knew what buttons to push with Andy. I knew what buttons to push where he would get really mad.
He'd be hot for awhile but it was always real. Our conflicts on the air were never contrived and that what really, really made it work. The thing with me and Ira is that there aren't as many dissimilarities, so to speak. We are both short [laughs].
MVictors: Yep, you're both short
Sam Webb: [laughs] And we both love Michigan. So finding that natural disagreement isn't quite as easy so it's a show that works for different reasons. Whether people like it as much, you know I don't know. The feedback that I tend to get is pretty positive. I think any remnants of people pining for what was is just a product of people getting used to something. People get into a routine. For two years it was Sam and Andy. And people got used to that. When Andy left now they have to get used to something different and I just think that that's a process.
It is also a process for Ira and I to find that chemistry. I think that's the biggest thing that makes for a successful show in my opinion. It's not necessarily all the shtick and these polished radio guys—it's chemistry. The best shows have great chemistry. When I listen to Mike Stone, I don't feel like listening to Howard Cosell, but it was the chemistry that he and Wojo had that really made that show go to me. That to me is the essence of what makes any show good; the chemistry between the hosts.
Guys that agree on everything make, for me, a boring product.  And again what makes this work a little bit better, even if Ira and I agree on everything, is that a lot of the crowd, I mean there's 40-50 percent of the crowd, doesn't agree with what we say. So they provide the disagreement that tends to make the show work a little bit more.
MVictors:  How is your relationship right now with The Wolverine guys? I notice you don't really sit together at most press conferences.
Sam Webb:  I will be candid with you.  It is not a friendly rivalry.
MVictors: Why do you think that is?
Sam Webb:  It's probably rooted in their conflict with Tom Beaver [Ed. Discussed in another portion of the interview, Beaver had a falling out with the folks at an earlier incarnation of The Wolverine] but by extension by everyone else is drawn in.  Any attack on GoBlueWolverine, even if it's just intended for Tom, is an attack on me. I can tell you that I don't have any issues with most of the guys over there.  One guy in particular I think has been extremely petty.  With me, I think it's a straight up competition.  If you beat me, you beat me.  I'm not one of those guys that just cries if I get beat, I say you beat me.  Not everyone is like that.  Some people can't take the 'L'.  I can take the 'L' if I am beat legitimately.
In the first month at GoBlueWolverine we were reported to the NCAA because Tom's former status was that of a booster to the University. In order to start GoBlueWolverine he had to shed his booster status, meaning he could no longer donate to the University.  So he ceased being a booster and followed the guidelines that were laid out by Compliance. You can not be a representative of the University.  A representative of the University means you are representing their athletic interests so I can't say, "You should go to Michigan," or anything that would be advocating for Michigan.  On the flip side of that, when it comes to dealing with Michigan, I can't give them any discounts when it comes to GoBlueWolverine or anything like that.
MVictors: So you assume someone from The Wolverine blew the whistle to the NCAA right when you got started?
Sam Webb: I don't think there is any question about it.  A lot of it is a clandestine sort of thing about what happened.  Later on, I started putting pieces together based on information from coaches.
I am good friends with Charles Ramsey who's now over at Eastern Michigan. One afternoon I was having lunch with him and I guess one of the guys from The Wolverine saw us.  Next thing you know one of the SIDs gets a call saying, 'Hey, it's in appropriate for these guys having lunch together, and it's a violation' and all that.  I was having a beer with a friend.  There were no illegalities, so to speak, going on.  But that was the contentious nature of how things sort of started off.  And in fairness Tom did a lot of ribbing at the beginning [laughs] and I think he harbored some ill feelings toward them. Eventually it drew me in because it wasn't just about the barbs back and forth anymore.  Now it got to the point, you're trying to put us out of business. I mean you aren't even trying to compete.  It would be different if you're trying to put us out of business through competition. It wasn't that way.  I think it was only one guy over there doing it.
I think The Wolverine publication is an outstanding publication.  I think their yearbook is still the best Michigan yearbook out there.  It's outstanding.  I think John Borton is a good writer and I have a tremendous amount of respect for Josh Helmholdt. I have respect for what they do.  One guy in particular I just don't think he competes the right way.  I think he does sneaky, conniving sort of things.
Related:
Interview with Sam Webb Part I – Recruiting, Carr, Rodriguez and more.
Sam Webb Interview Part II – Radio, recruiting trends and more.
Sam Webb Interview Part III – Beginnings and Gut Feelings.