I know Rutgers is not Ohio State, even though their uniforms may look the same but nonetheless a win is a win, and when other Big Ten teams are losing, Michigan just needs to keep winning.
So, with that in mind…ONWARD–to your Champions!
OFFENSIVE CHAMPION – As I watched Jake Rudock warmup before the game from the sideline (thanks IMG & Carhartt [Ed. this coat is sweet!]), he looked tentative and tight and I wondered how healthy #15 would be come game time. Well, 337 passing yards later, it was pretty obvious how healthy he was. I'm not saying that Jake Rudock is Rick Leach, but he did throw for two TD's and ran for another – much like the old Guts and Glue of the Maize and Blue did in his day. Rudock's TD run into the north endzone corner reminded me of another touchdown that old #7 scored back in 1977 in the same endzone. It looked like this (something that I put together a few years ago):
DEFENSIVE CHAMPION
– So many defensive guys played rock solid on Saturday, but Taco Charlton stood out in my mind. He may not have had the best game statistically (3 tackles and 1 sack) but he seemed disruptive throughout the game and I think that is why Rutgers had zero passing yards for most of the first half. If that D-Line is not getting to the QB, I think they are least getting into the MIND of the opposing team's QB – just as good in my opinion!
SPECIAL TEAMS CHAMPION – Not saying that no one deserved mention but…the placekicker missed a field goal. The punter didn't boot one until the 4th quarter. Rutgers returned a kickoff for a touchdown…so yeah – got some work to do here.
HEAD COACH – I wondered why Rudock and the offensive starters were still playing in the 4th quarter when the game was obviously not in doubt. Something must have happened, but what? Then I found out about what transpired in the tunnel at halftime. When your team gets called out like the Rutgers players did in the tunnel, coach Jim Harbaugh felt – like Kid Rock so aptly put it – SOMEBODY'S GOTTA FEEL THIS! So while other Michigan coaches may have taken a knee with the game no longer in question, coach Harbaugh took a knee to the head of Rutgers – and I soo dig that! You know why? CUZ SOMEBODY'S GOTTA FEEL THIS!!! GO BLUE!!
Because one side of my virtual helmet is full of stickers, it's time to fill up the other side: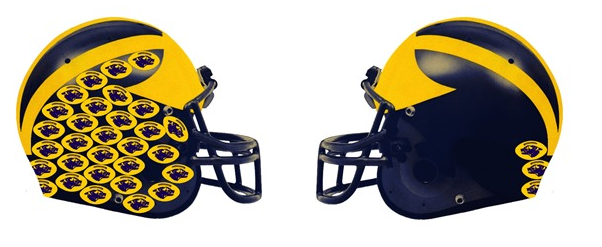 Decals dealt out in previous weeks:
Utah: Jake Butt, Jabrill Peppers, Blake O'Neill, (Uniform: White Road Uniforms), John Kryk
Oregon State: De'Veon Smith, Chris Wormley, Delano Hill, The Coaching Staff
UNLV: Ty Issac, Channing Stribling, Blake O'Neill
BYU: Jake Rudock, Defensive Line, Jabrill Peppers, (Uniform: Properly Hiked up White Socks), Amara Darboh
Maryland: Drake Johnson, Desmond Morgan, Kenny Allen, (Uniform: Blue lyrca leggings).
Northwestern: Jehu Chesson, Jourdan Lewis, Offensive Line, (Uniform: Maize and Blue gloves).
Michigan State: No Champions
Minnesota: Wilton Speight, Michigan defense, Jabrill Peppers, (Uniform: Stickers crossing the stripes! :O)
Rutgers: Jack Rudock, Taco Charlton, Jim Harbaugh