Rumor, gossip, unsubstantiated but it's Friday night, right?  Word on the street is that Detroit sports radio station WDFN 1130AM may have won over the Clear Channel corporate brass that called for the clean-out of local radio shows back in January 2009.  If you recall, they wiped Sean Baligian, Matt Shepherd and the iconic Stoney and Wojo show from the schedule, prompting this piece of Photoshop gold: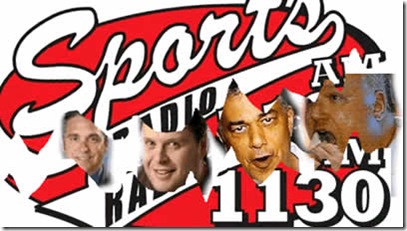 Stoney recently filled in for Mitch Albom on WJR and we know Wojo (above, eating something) is still around.  If true, could they be tapping the duo to return before football season?
Take: Beyond that this is purely scuttlebutt, I doubt Clear Channel would go back to these guys unless they were able to negotiate a compromise on pay.  Stoney was jokingly known as the show's "franchise", hinting that he probably made a nice paycheck.  We'll see.