Ira Weintraub and I walked through a bunch of topics related to 1930s Michigan football early Thursday morning on WTKA 1050AM.  One thing we didn't discuss was why Kipke's Wolverines were named national champions back then (and consider so to this day).
Harry Kipke's 1932 and 1933 teams were champions not by virtue of a poll of writers or coaches.   The two titles were determined by the most widely recognized method at the time: the Dickinson System, a formula devised by Illinois economics professor Frank Dickinson that ranked college teams at the end of each season.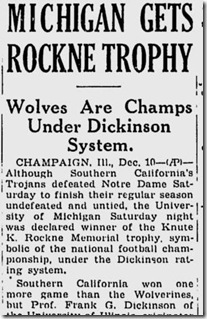 The formula was pretty simple.  Each game outcome (win, loss or tie) earned a score based on the quality of the opponent. The total of points for a season was then divided by the number of games to arrive at a common rating metric.    They key for teams in these parts: Dickinson added a factor to adjust for games that involved teams from different parts of the country and it contained a very heavy "Middlewest" bias:
"differential points" would be factored in for an "intersectional game", with ratings of 0.00 for East schools, higher points for "Middlewest" (+4.77) and Southwest (+1.36), negatives for the South (-2.59), the Big Six (2.60) and the Pacific Coast (-2.71).
Strength of your opponent was a huge factor in the Dickinson system.  A loss against a 'first division' team earned you 15 points, while a win against a 'second division' team earned you just 20.  In 1933 consider that Michigan actually earned more points for tying Minnesota than did Fritz Crisler's Princeton for pummeling Amherst 45-0.  I mention the Tigers as they were the only unbeaten, untied team that year but only received sparse support for recognition as national champ as they finished a distant seventh according to the Dickinson.
The NCAA has collected all the other groups that did or have since devised a method to determine the champion.  They've since taken them down or moved these listings, but here's how they break down 1933:
Michigan: Billingsley, Boand, Dickinson, Helms, Houlgate, Football Research, National Championship Foundation, Parke Davis*, Poling
Ohio St.: Dunkel
Princeton: Parke Davis*
Southern California: Williamson
Without getting into too far into these ridiculous arguments over who's better, Ohio State and USC both had losses that season (the Buckeyes were shut-out by Michigan!). Princeton has a beef given they finished 9-0-0 but played what is perceived to be a much softer schedule.  Not a major surprise but the Tigers do claim ownership of the '33 title per their horrible & shameful website covering the rich history of their football program:
Art Lane '34 captains the Princeton eleven to an undefeated, untied season and the national championship. This is one of the best defensive teams in Princeton Football history allowing only eight points.
So yes, it was a mathematical formula created by an economics professor that gave Michigan the 1932 and 1933 national titles.  The Dickinson ratings were published until 1940 but in 1936 it was displaced as the accepted determinant of college football champion by the Associated Press writers poll.
Further demonstrating the silliness of these various methods of sorting out the college football season, check this out.  In 2004 the folks down at Southern Cal were digging around and noticed that they held the highest Dickinson rating in 1939 (again, a few years after the Dickinson system took a backseat to the AP Poll).   According to the NCAA no other body views the 8-0-2 Trojans as the champion and all (including the AP) give official the honor to undefeated Texas A&M.  "Whatever," said USC and in 2004, a month before kick-off of the college football season, USC Athletic Director Mike Garrett made an announcement:
"It was brought to our attention by various individuals that we should be claiming the 1939 Trojans among our national champions in football," said Garrett. "We took this matter seriously, did significant research and determined this to be true. That 1939 team was one of the greatest in our history."
If you are curious, here are a few unclaimed national titles Michigan can go after–so someone email Dave Brandon and tell him to get crackin':
1910: Billingsley
1925: Sagarin <—you could argue this was Yost's best team
1964: Dunkel
1973: National Championship Foundation, Poling
1985: Matthews, Sagarin
Follow MVictors on Twitter